Activists gathered in Salisbury over concerns of a new health care bill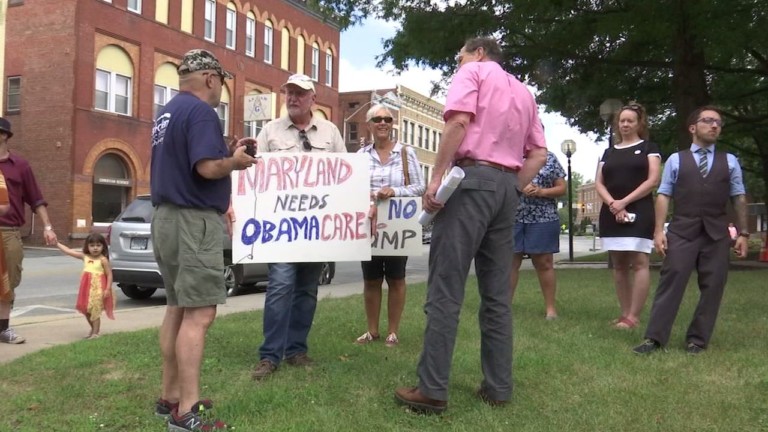 Majority Leader Mitch McConnell announced Tuesday that he plans to release a discussion draft of a Senate Republicans' health care bill Thursday, June 21, 2017.
McConnell says he wants to bring the bill to a vote before the July 4th recess.
So far, the entire process has been kept under wraps.
Both Republicans and Democrats have said they have not seen the Senate Bill yet and some are saying it is being written in secret.
We spoke to Maryland Senator, Ben Cardin, who says he has no idea what the final bill is going to look like.
"We expect it will be patterned after the house bill, which could jeopardize millions of Americans, hundreds and thousands of Marylanders and their insurance coverage. It jeopardizes the protections we have against predatory insurance practices such as pre-existing conditions," Senator Cardin says.
47 ABC has learned that it would only take three Republican Senators voting against the bill to kill it.
Locally, some activists gathered outside of Representative Andy Harris' office in Salisbury.
Their message for the rally was to urge Representative Harris to reject proposals that would take health care away from thousands of Marylanders.
Colorful signatures scattered across a blank poster. This was just one way activists voiced their concerns about the possibility of a new health care bill.
Michael Feldman, from Progressive Maryland, organized this rally in order to grab the Congressman's attention.
At the rally, several different people voiced their concerns.
Feldman says, "Under the American Health Care Act, almost a million people just in the state of Maryland will lose care. Over 77 million people in the country will have their health care at risk between pre-existing conditions and the take away's of the Medicaid expansions."
Some were advocates who say, health insurance can be life or death for some.
These activists say, their biggest issue, is the secrecy of this upcoming Senate draft.
But Representative Harris says, if you have insurance, you should not be concerned.
"Anyone who has insurance right now they should have no concern whatsoever. The only affect that this bill will do is bring down their premiums. Because we have guaranteed issuance, so if someone that has a pre-existing condition, they are guaranteed that the policy will be reissued at the standard rate, the regular rate," Harris tells 47 ABC.
Representative Harris says this will bring down the cost of health care insurance.
He has also been hosting several telephone town halls.
But those at the rally aren't wanting a phone call, instead they are looking to meet with the congressman face-to-face in order to build a stronger relationship.