New program brings virtual medical experts to the shore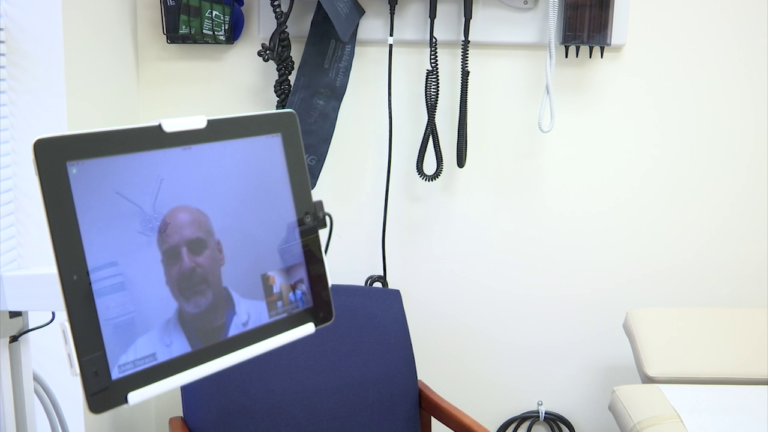 Medical expertise in a patient's backyard.
That's the goal of Atlantic General's new telemedicine program, which launched this week. It's a project that helps local lung cancer patients via I-pad, by bringing the expertise of thoracic surgeons from the University of Maryland Medical Center to the Berlin-based hospital.
"What this program will do will hopefully hook up the patients that are on the Eastern Shore with the university-trained surgical group."
Atlantic General Pulmonologist, Dr. Peter Constantini, is the doctor currently testing out this new program. He says bringing local patients this kind of expertise is crucial for better surgical outcomes.
"Studies have shown over the years that people that are treated at high volume university settings do much better as far as their outcomes, their longevity, and having less complications than done at local community hospitals," explains Dr. Constantini.
Dr. Joseph Friedberg is a thoracic surgeon from UMMC working with Constantini. He's calls in like Skype, and although he's over the bridge, is able to check up on his patients at their convenience.
He explains, "Everything happens in Dr. Constantini's office except the surgery. We take care of the patients they come back to the shore and basically its as if we're in the office with them when the patients come back for a follow up."
AGH Telemedicine Coordinator, Jennifer Light, says having this kind of expertise right at their finger tips could bring more locals in to get checked out knowing they won't have to make a trip over the bridge.
"We legitimately have patients that worry about how am I paying for my medicines so making an extra trip and affording that gas money, it's huge. If we can keep them here we can return them to work earlier they are going to be more apt to engage in healthcare and come into the physician's office and seek out those consultative services from specialists."
Officials at Atlantic General say consultations are from 8 a.m. to 12 p.m. on Wednesdays. We're told that Atlantic General has also started doing virtual consultations for local youth who are seeking behavioral health therapy.