Mardela Middle student creates "Red Cross Club"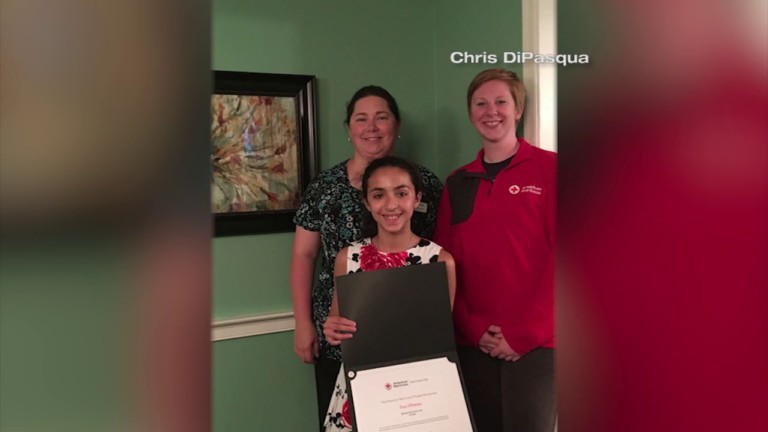 There are many different organizations that help people in times of need. Zoey DiPasqua, a 7th grader at Mardela Middle and High School wanted to do something similar to give back. So she created the Red Cross Club. Her inspiration? Her parents, who are both nurses at Peninsula Regional Medical Center.
47 ABC spoke with Chris DiPasqua, Zoey's father, and he tells us, "Zoey wanted to do something to give back to the community. She was looking for a way to volunteer and with my wife and I both being nurses she thought about doing something that might have to do with CPR."
So they did their research together, looked at options and decided to go with something more broad, helping the Red Cross. In the beginning of the school year they contacted the principal and then reached out to the head of the Red Cross. At that point it was off and running.
Zoey tells 47 ABC, "I wanted to make our community safer and a better community, get everyone involved, and this was the best way to get everyone involved in our community."
Zoey and her team do a variety of things to assist the community like feed the homeless and install fire alarms to residents in Mardela.
"The people that we fed at the homeless shelter, it actually gave them a place to stay for the night and lunch for the next day that we also made," Zoey said.
Right now, the Red Cross Club, which is open to anyone ages 6th through 12th grade at the school, has about 20 members and so far they've raised over $300 with the help of fundraisers. All of the proceeds go right to the Delmarva chapter of the American Red Cross. As far as how her dad feels about her efforts?
Chris tells 47 ABC, "Extremely proud of her I think she's going to be an asset to the Delmarva community. These are kids six to 12th grade so I think they're doing their part."
"I really just hope to improve other communities and help people understand more about how they can help," Zoey said.
On Monday night, Zoey was recognized by Wicomico County schools not only for the Red Cross club, but also for another scholarship she formed this past February called the Zoey DiPasqua Endowment for the Betty Turner Memorial Nursing Scholarship. Zoey has already managed to raised $5,725 for the scholarship, which will be awarded to a Salisbury University Honors College nursing student and continue for years to come beginning in the Spring 2018 semester.