James M. Bennett High student creates "Sign Language Club"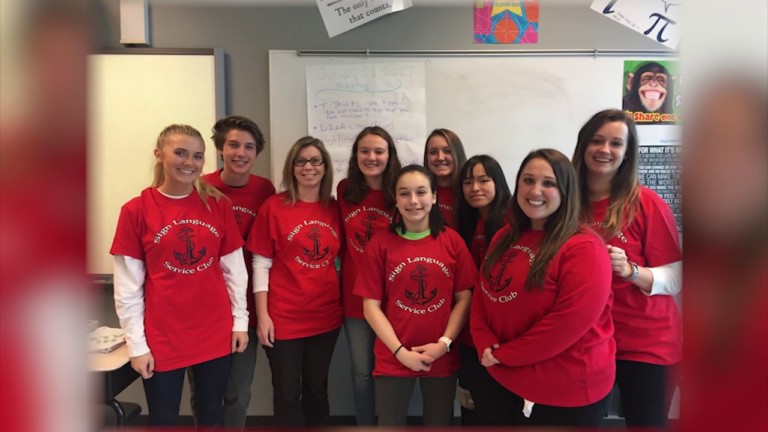 It was a simple idea that quickly took off. Samantha Wiersberg has been interested in sign language since she was a little girl. A junior at James M. Bennett High School, she decided she wanted to bring awareness to it and teach it.
Wiersberg tells 47 ABC, "I said I have this idea and this is my idea, I want to start a club."
At the age of 6 Samantha was already working with CODA International, which stands for Children of Deaf Adults. That's why the life-long Girl Scout picked the subject for her gold award, a top honor in scouting where she has to put 75 hours into a self sustaining project. Her dream, the sign language club.
After having an interest meeting with one of her teachers last spring things got rolling. She expected 10 kids to show up for the first meeting, she got 40. Wiersberg tells 47 ABC, "We have a solid about 25 members that come every single time and they come to all the service projects, they stay after, they help me get ideas to improve, so I hope they like it, I think they like it."
She appointed two of her former teachers to be her advisors, Ms. Mazzarone and Ms. Murray.
Ms. Mazzarone tells 47 ABC, "I've been really proud of Sam because she has started something that came from nothing. The more we saw, the more invested we got because how could you not with Sam."
Ms. Murray tells 47 ABC, "Sam has made it so that the club has actually grown to something that's well known and people know about it and its not just a little club that people do after school its a full commitment."
As far as Wiersberg's advice to others?
She tells 47 ABC, "If you have a goal go for it, that's it really because I never thought that I would, I'm getting emotional I don't know why I'm crying, why am I crying? I never thought it was going to happen and in the beginning Ms. Mazzarone, I'm sure can vouch for this, I was apprehensive and I didn't really believe in myself. Now I was like ok I have an idea and that idea turned into a family and I think that's super important."
From meetings with team members to meets at Starbucks on the weekends, her group is better than she dreamed of.
Wiersberg says, "Becoming a sign language and physical family, that's more than I ever could have imagined and more than I could have ever asked for."
Wiersberg says she hopes that this club will continue on, even after she graduates.