Dogs make a splash in Dewey Beach for a good cause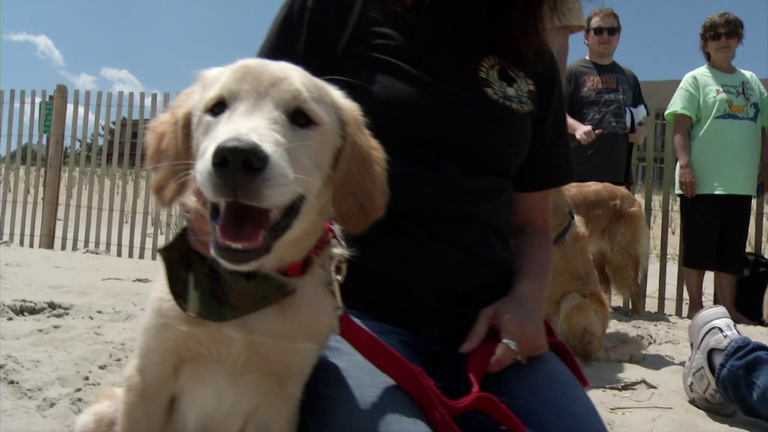 A day for the dogs.
That's what the 2017 Spring Dewey Golden Jubilee is all about as dozens of dog owners from all over headed to Dewey Beach for a doggy beach day.
Plus, it's all for a good cause.
"We started doing this several years ago and the funds made are for the Golden Retriever Lifetime Study. There's 3000 'Goldens' that are in the study from the Morris Animal Foundation to try and find out why our dogs are dying so much, of cancer and of different illnesses," explains Karen Gerth.
Gerth is the organizer or as she calls it the Golden Jubilee instigator and she says the Jubilee is a great way to not only let their four legged companions off the leash but also raise money.
Registration was free but participants were encouraged to donate to the Golden Retriever Lifetime Study and those funds will go towards finding what Gerth calls much needed answers.
She says, "These guys used to live to be 14 years old, now it's lucky if you get into double digits so we really want to find out what's happening with 'Goldens', you know, we really want them to be around a whole lot longer so yeah I lost one at five and and it's just not right."
Former Dewey Beach Mayor, Diane Hanson, says the jubilee isn't just a great day for the dogs but for the city too.
She explains, "We like having the dogs here. They come either pre or post season so it helps with the hotels, with the restaurants, the rentals and of course a great time for the dogs because they can run on the beach free at those times. There's not many places that dogs can do that do use one of the most dog friendly beaches in the world.
They also handed out memorial medallions for owners who lost their golden companion with all the proceeds from those going to G.R.R.E.A.T, a rescue shelter for golden retrievers.