Daniel Johnson tours "hurricane hunters" for Hurricane Preparedness Week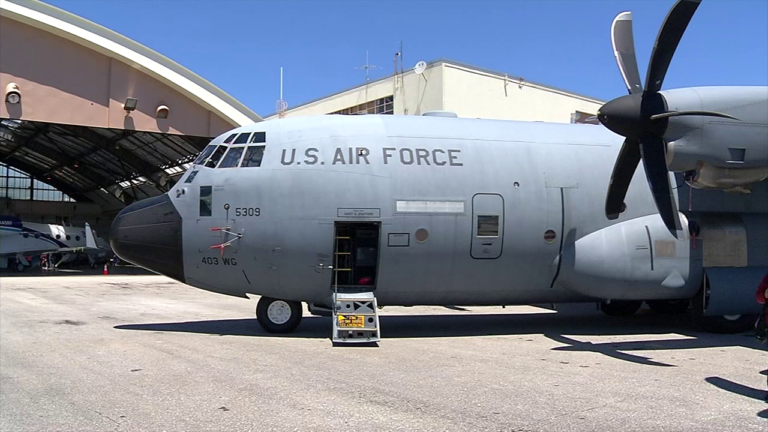 With hurricane season right around the corner, 47 ABC Chief Meteorologist Daniel Johnson went to a special event across the bay that highlights potential tropical impact.
It's Hurricane Preparedness Week and that's why Ronald Reagan Washington National Airport hosted an event on Tuesday to help spread the word about tropical safety across the mid-Atlantic.
"We're able to teach school kids about what their family should be doing to prepare for hurricanes," National Hurricane Center Warning Coordinator Meteorologist Dan Brown said. "We have a chance to meet with local emergency managers about evacuation processes, decisions they have to make, as well as meet folks from the public again to make sure people are prepared as hurricane season approaches."
While Hurricane preparedness week happens every year, this year visitors saw something special: for the first time in history, several "hurricane hunter" aircraft landed in Washington to show off their wing span and demonstrate how important they are to hurricane forecasting.
These aircraft play some of the biggest roles during hurricane season by flying into storm systems and gathering data.
"All that data that we collect, such as temperatures, dew point temperatures, which converts to relative humidity; we've got surface pressure, wind direction, and wind speed–all that data is very vital," USAF Reserves Meteorologist Brian Schroeder said.
All this data goes into forecast models that local meteorologists use to forecast specifically for the Delmarva peninsula.
Chris Strong with the the National Weather Service in Washington/Baltimore says community involvement is key for an event like this
"Having this in a city where so many people can access it versus more far flung areas, it just allows so many more people to be thinking about hurricanes," Strong said.
The event was open to the public, with visitors including students who took advantage of the learning opportunity.
"Their target is about fourth to sixth graders," Schroeder said. "It's a great age group to work with; they're starting to get interested in science and stuff."
"Right now we're learning about hurricanes and the little drop pods," fifth-grader Caleb Kurihara said.
"We talked about the eye of the storm and how it's the safest part of the storms and different planes doing different jobs," fellow student Manav Sridhir chimed in.
"Some types of planes go in hurricanes, some chase after to see what the damage looks like," fifth-grader Hadley Knapp said.
The hurricane hunters continue their hurricane preparedness tour by heading to North Carolina and then Florida for the rest of the week.
For tips on how to prepare your home for hurricane season, head to the National Weather Service hurricane safety tips website.