Man promoting kindness with personalized bus travels to North Salisbury Elementary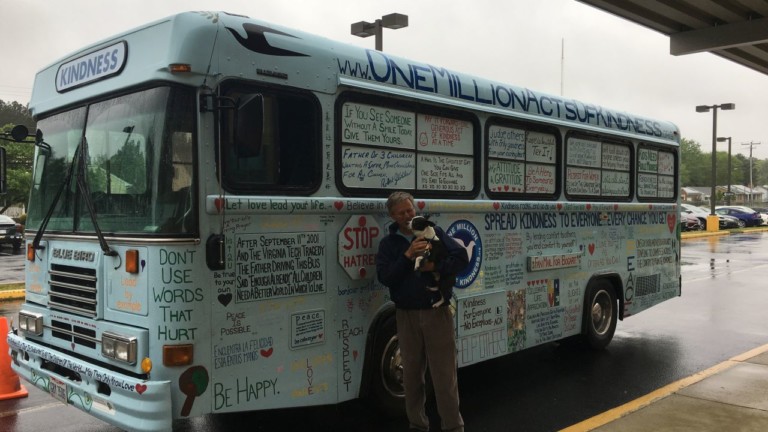 One million acts of kindness, that's Bob Votruba's goal. He and his dog Bogart are driving around the country in their "Kindness Bus" trying to achieve it!
47 ABC spoke to Votruba and he says, "Bought a bus, I got Bogart here 8 years ago and we've been traveling the country ever since. It's about a nine month trip around the United States. 10,000 miles on the bus and about 6,000 miles on my bicycle."
On Tuesday Votruba visited North Salisbury Elementary where he spoke to a group of first and second graders about how they can make a difference just by being kind.
Bob's mission actually started 10 years ago after the Virginia Tech massacre. He tells 47 ABC, "My three kids were in college at that time and I just decided you know what, I want to do something about this and I traveled down to the campus three days after the shooting, was there for four days and was so deeply and profoundly moved. As cliche as it sounds, when you're a parent you try to make the world the best place possible for your child and that's what this is all about and trying to do our little part of raising awareness of having kindness as a goal."
Bob knew he had to travel on his own so he sold everything he had including his house, his car, all his furniture, most of his clothing and in 2009 he bought his bus. Since then he's been traveling around the United States promoting kindness. Painted with over 450 messages, he hopes that each person he meets with will start doing one act of kindness every day.
Votruba tells 47 ABC, "We all have the time in our day to at least to do one more act of kindness and that's all I ask." He adds his next stop is Maine then he'll travel to Seattle, San Diego and then back down to Naples, Florida where he began.