Hogan on schools act: "It's one of the worst things that I've ever seen happen in the legislature."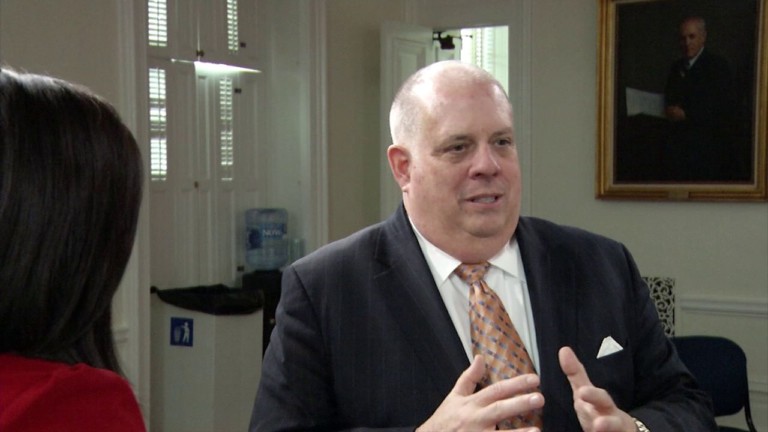 Lawmakers are hard at work in Annapolis fine-tuning legislative measures before the 437th General Assembly session closes in April.
A number of those measures have not been offered without opposition from Governor Larry Hogan and his staff, including the Protect Our Schools Act.
During a one-on-one interview with 47ABC on Friday, Governor Hogan said the act which carries two major pieces of educational measures, ought to be called the "Protect Our Failing Schools Act".
"It's one of the worst things that I've ever seen happen in the legislature," says Governor Hogan. "We're going to trap kids in persistently failing schools. We won't be able to make any of the improvements."
Part of the proposed legislation would set a standard on how school success is measured. It would use a combination of test scores, along with other factors like school climate surveys, absentee rates and opportunities to enroll in advanced placement classes.
Hogan says he agrees markers of success go beyond testing, but it's the other part of the bill that has him concerned.
The act would also prohibit the state from taking a number of actions to reform low-performing schools, including converting them to private charter schools and bringing in private operators.
A statement from the Senate bill sponsor Senator Craig Zucker of the 14th District released to the Maryland State Education Association ('MSEA'), reads in part "Marylanders don't want to see school privatization come to our state, and they want Gov. Hogan to protect our students and educators. This legislation does just that."
Hogan also claims the state could lose up to 1.25 billion dollars over the next five years. He says that's because under the act, Maryland would be failing to comply with federal regulations to address failing schools.
However, the MSEA says that claim is "falsely exaggerated" noting the Every Student Succeeds Act is vague on certain requirements.
"The Attorney General's office has told legislators that nothing in the Protect Our Schools Act is out of compliance with federal law," a statement in a press release from MSEA reads.
47 ABC brought this rebuttal to Governor Hogan on Friday.
He admits there's no guarantee any federal funding would be lost, also agreeing the federal law is, in his words, "unclear".
"I don't want to risk the possibility of losing a billion dollars in educational funding and there's no question this puts us at risk," he says.
The act passed both the House and Senate earlier this week. We're told it heads to the Governor's desk with Hogan pledging to veto it.
MSEA says they are now calling on legislators to override that veto.
47 ABC spoke in-depth with Governor Hogan on a number of other legislative measures the administration and General Assembly is still eying on Friday. Those reports will available in the coming days.