Delawareans exercise their right to bear arms in Steel Challenge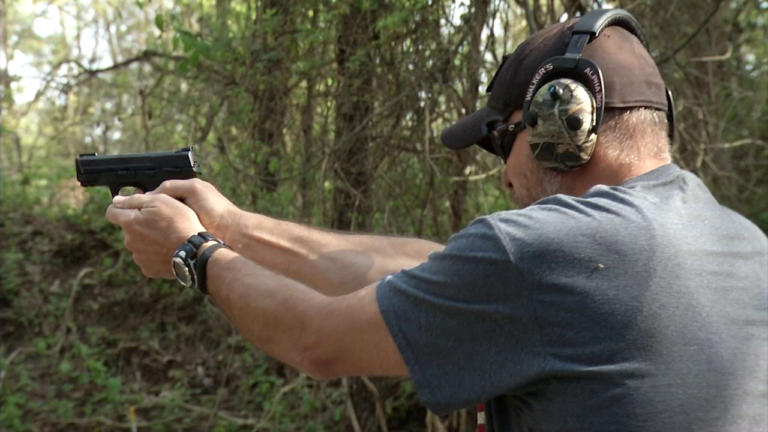 Almost a dozen Delawareans showed off their skills Sunday morning in a pistol challenge at Nanticoke's Sportsman Club in Seaford.

The challenge's organizer David Elliott says, "The steel challenge is basically a national thing and we shoot steel plates and have fun doing it."
He tells 47 ABC it's all about how fast you can shoot each target, which are stationed at different lengths and heights, at each of the four stations.
At the end, they calculate all the times and name the winner. Elliot explains it's a way for those who like to shoot to test their skills while having fun.
"As you saw today we had fun doing this. This is our pastime, this is great."
NRA certified instructor, Jeff Daniello, says "It's fun, it's a stress relief that's all I can say."
Adding it's a way to hone in on his skills.
"It's really, like I said, shooting a firearm is a perishable skill so it works it out like my firearm here is what I carry everyday so its good practice," expalins Daniello.
Both Elliot and Daniello tell 47 ABC, it's also way for them to exercise their 2nd Amendment right to bear arms. Something they say some folks might take the wrong way.
Elliott explanis, "We don't get them to go out and rob a bank or shoot somebody we get hem to protect ourselves and a lot of the anti-gun people think just because we have guns we're bad and it shouldn't be that way."
For many of the participants on Sunday and the club overall, it's a hobby they enjoy doing whenever they can.
The Steel Challenge is just one of the many competitions the Nanticoke Sportsman Club offers to not just its members, but the public as well.
Their archery competition is coming up next Sunday.