Family reunited with missing dog after 10 months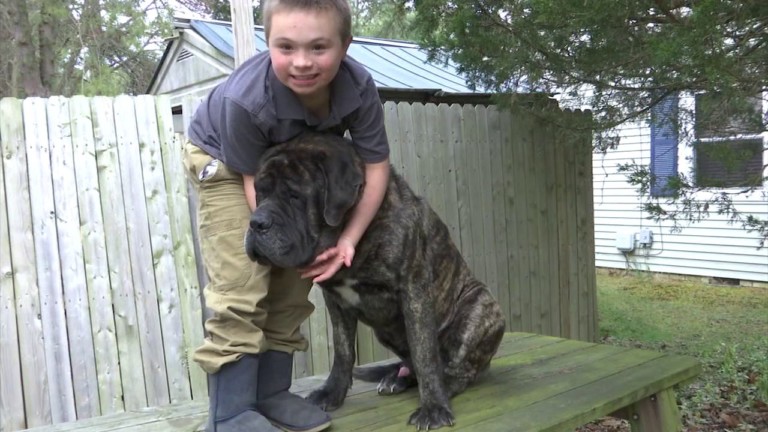 When a family pet goes missing it can be heartbreaking. Searching, posting flyers, posting to social media, you do everything you can to find your beloved animal. And that's exactly what the Morgan family did for months on end when their beloved Mastiff Augustus went missing last June.
47 ABC spoke with Hollie Morgan, Augustus' owner, and she tells us, "We didn't think we were ever going to get him back."
But 10 months later, they did. Augustus was found! But it didn't come without a lot of searching, doubts, and heartache. Especially since Hollie Morgan's son Max has such a special relationship with him.
Morgan tells 47 ABC, "Max talked about him every day."
After breaking through a fence on a family farm in Denton, Md., he roamed corn fields and the streets for months. Posting flyers all through Delmarva all the way up to Pennsylvania, Hollie says they got a lot of assistance from so many people. There were even several sightings and attempts to catch him, but nobody could.
Morgan tells 47 ABC, "We got so many different calls and it was like ok here's another one its nothing." Then on March 14th, Hollie received a text from a woman Amanda Milspaw, in Dagsboro, who had been holding Augustus in her house for a few days after finding him and taking him in. Milspaw asked if they were still searching. They were.
Morgan tells 47 ABC, "I gave them all the descriptions and the little markings that he had and I said can you send me pictures and she sent me pictures and I said, 'oh my God, that's him.'"
Max's sister Mirenna is also thrilled to have him home. She tells 47 ABC, "I was pretty confident that we were going to find him and I'm pretty happy that we did."
As for other families going through the same thing, Morgan has a message for them. She says, "So anybody who has dogs missing for a long time, don't lose hope, we almost did."
Morgan says they were all set to get another dog after Augustus had gone missing because they didn't think he was coming back. But her husband wanted to wait, and now they are glad they did.