OCPD names Officer of the Year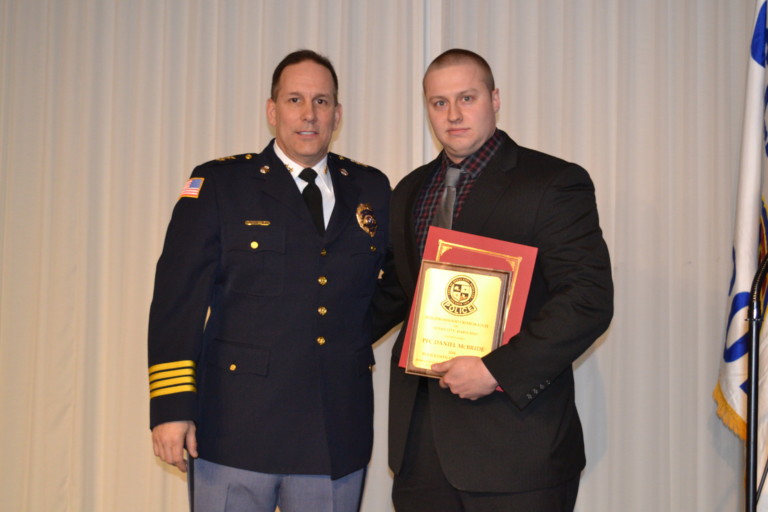 The Ocean City Police Department has announced their annual Officer of the Year for 2016.
Police Officer First Class Daniel McBride was named the Ocean City Neighborhood Watch Association's 2016 Officer of the Year at a ceremony held on Friday, January 27, 2017 at the Grand Hotel & Spa. Also nominated were Detective Cpl. Brett Case, Pfc. Nicholas Forsyth, Pfc. Corey Gemerek, Dfc. Shawn Lindsey, and Dfc. Carl Perry.
McBride began his career with the OCPD as a seasonal officer in 2010 and worked two consecutive summers before being hired as a full-time officer in January 2012. Pfc. McBride is a certified Field Training Officer and a member of the Domestic Violence Unit and the Recruiting Team. In 2014, he was named the Knights of Columbus Officer of the Year, the American Legion Officer of the Year, and received the Worcester County Drug and Alcohol Abuse Council Certificate of Achievement. Upon accepting the award, Pfc. McBride gave credit to his fellow officers for his success and thanked many of the officers on his shift for believing in the concept that "it's amazing what can be accomplished when nobody cares who gets the credit."
Volunteers of the OCPD Auxiliary Unit were also recognized for their contribution of 2,190 hours of their time in 2016. Since the Unit's inception, Auxiliary Officers have volunteered a total of 58,000 hours which translates to a cost saving of approximately $2 million to the taxpayers of Ocean City. This year, the Auxiliary Officer of the Year Award was given to Kim Herbert for her dedication to public safety in Ocean City. Herbert joined the Auxiliary Unit in 2010 and volunteered nearly 250 hours in 2016.
As part of the ceremony, many civilian citizens and officers were awarded departmental commendations for exemplary service. Six civilians earned the Certificate of Outstanding Service: Catherine Cartwright of Ocean City, MD; Sarah Galvanek of Hackensack, NJ; Danielle Krywinski of Rochelle Park, NJ; Lia Johnston of Warminster, PA; William Legg of Hackensack, NJ; and Kyle Yeager of Warminster, PA. Lt. Scott Kirkpatrick, Sgt. Dennis Eade, Sgt Brian Mongelli, Sgt Mark Paddack, Sgt. Frank Wrench, Cpl. Vance Row, Pfc. Gary Cooper, Pfc. Matthew Foreman, Pfc. Nicholas Forsyth, Pfc. Corey Gemerek, Pfc. Jeffrey Heiser, Pfc. Daniel McBride, Pfc. Kory Moerschel, Pfc. Edward Newcomb, Dfc. Carl Parry, Pfc. Pamela Russell, Dfc. Nick Simpson, Pfc. John Spicer, Ofc. Herbert Jenkins and Seasonal Officer Melissa Schoppen each received Excellent Performance Commendations. In addition, Pfc. James Bird earned the Special Commendation award for his efforts to save an individual's life and Dfc. Jeffrey Johns earned the Meritorious Service award for his exceptional work to put a significant dent in the drug trade throughout Worcester County.
Employees were also recognized for their retirement and promotions at the event. Lt. Howard Whaley was celebrated for his upcoming retirement after 27 years of service to the citizens of Ocean City. Due to Lt. Whaley's retirement, James Grady, Frank Soscia, and Michael Kelly were recognized for their upcoming promotions to Lieutenant, Sergeant, and Corporal respectively. James Bird, Gary Cooper, Adam Lapinski, Joseph Laughlin, Xeniya Patterson and Erika Specht were each recognized for their promotion to Police Officer First Class in 2016. Earl Cecil was also recognized for his promotion to Police Custody Officer.