New dog ordinance could replace "vague" policy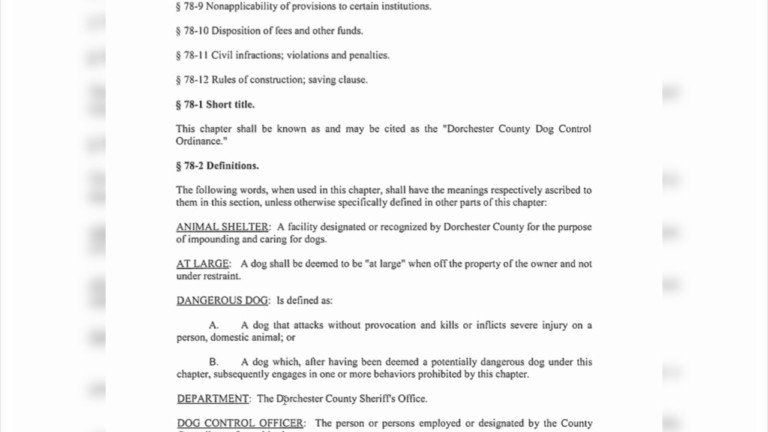 When it comes to prosecuting animal-related crimes, officials admit it can be a tough task; however, officials say a small change in language could make a difference.
Officials are considering revising existing ordinances in Dorchester County when it comes to dog control and regulations.
"In today's society, we can't leave things open to interpretation," says Sheriff James Phillips, Jr.
Sheriff Phillips tells 47ABC the county's Animal Control unit is operated through the Dorchester County Sheriff's Office but when it comes to the current dog ordinance, he describes guidelines for proper care as "vague".
"A shelter…what constitutes a proper shelter for an animal? The current ordinance does not dictate that, the new one will." he says.
If approved, the ordinance would list a number of defining markers for a proper doghouse such as secured sides and tops, floors free of rot, and clear of debris.
The proposed revision would also clarify "dangerous dogs" being defined by actions like attacks without provocation.
Phillips explains its past cases of animal abuse and neglect that inspired this call for change.
The most recent high-profile case involving allegations of animal mistreatment is Robert and Susan Murphy. The Eden couple is accused of running a puppy mill out of their property. They each face 96 charges including aggravated animal cruelty.
The case stems from April 2016, when 310 dogs were seized from their property. They were formally arrested and charged in July 2016.
While this case is pending litigation in Wicomico County, it's not their first run-in with the law. According to online court records, both were acquitted of animal cruelty charges in Dorchester County in 2009.
When asked whether the 2009 case inspired the most recent call for changes in the dog ordinance in Dorchester County, Sheriff Phillips answered "That had something to do with it, yes."
State's Attorney for Dorchester County Bill Jones helped draft this proposed revision.
According to Jones, animal cruelty case are difficult to prosecute.
He says when a regulation is too vague, it can pose a challenge in the courtroom and adds the law "favors specificity".
"What we get is people have a better understanding of what's expected of them from that," Jones says. "It's easier for the Sheriff and the Animal Control to sort of enforce these laws. It's easier for my office to prosecute violations of these laws."
As for Sheriff Phillips, he admits the revision is not an end-all but could be a step in the right direction to protecting animals.
"It's baby steps," he tells 47ABC. "Is it the ultimate document? Absolutely not. It's not where we ultimately want to end up, but it's a huge step over what have now."
A public hearing was held at the Dorchester County
For a full copy of the revision, click here.