Local mom runs tab drive for families in need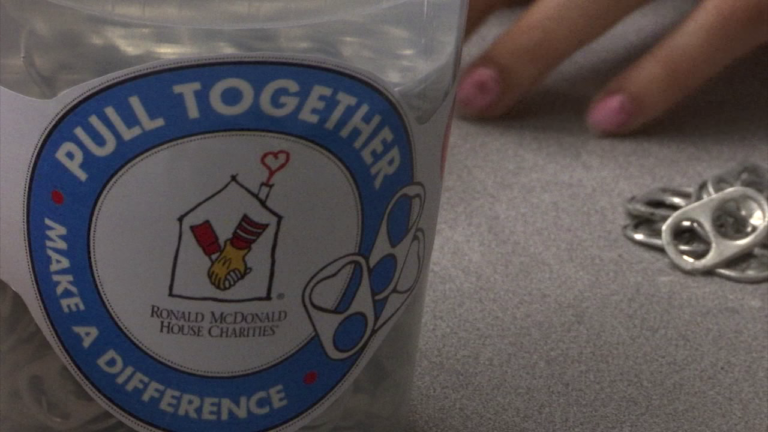 Aluminum tabs might not be worth much, but hundreds even thousands of them are priceless.
Jen Shipe of Salisbury is collecting them for a local tab drive. It's a fundraising effort through the Ronald McDonald house.
"They collect the tabs off any of the cans, your vegetable cans, soda cans, and then they recycle them and they use that money to help the families that stay at the Ronald McDonald house."
Jen is doing this because she knows firsthand what its like to need the help that the Ronald McDonald house provides.
In 2015, her son Wyatt was born with a congenital heart defect. Jen remembers the short time she spent with Wyatt at the Children's National Hospital in D.C. and the pain of losing him.
"For families that have a child in the hospital that's their main focus all of their energies, they want to be with that child. They don't want to worry about a hotel bill or where to stay or where are they going to wash their clothes that sort of thing," explains Jen.
Jen created Wyatt's Warriors Foundation last year to honor the memory of her son by raising awareness about congenital heart defects and to support families going through similar struggles.
That's why starting the tab drive this year made sense and the local community jumped on board.
Wicomico Middle School health teacher, Kristen Jackson, started collecting at her school and it took off.
"We raised over 60,000 tabs here at Wicomico Middle School in a little less than a month and we had one student that raised over 40,000 tabs just all on her own," says Jackson.
Although, the eighth graders aren't just collecting they're helping count hundreds upon thousands of little tabs too.
Jen says, "I'm so grateful the students came together, recognized the need, and brought in so many."
She tells 47 ABC that more than half the schools in Wicomico County are now participating in the drive and there are even a couple of schools from Worcester County that have joined in.
Jen says she hopes to collect one million tabs by May 13th, which is the date of the Second Annual "Warriors Walk for Wyatt" in Salisbury.