State's Attorney considering reactivating charge against Joseph Carlini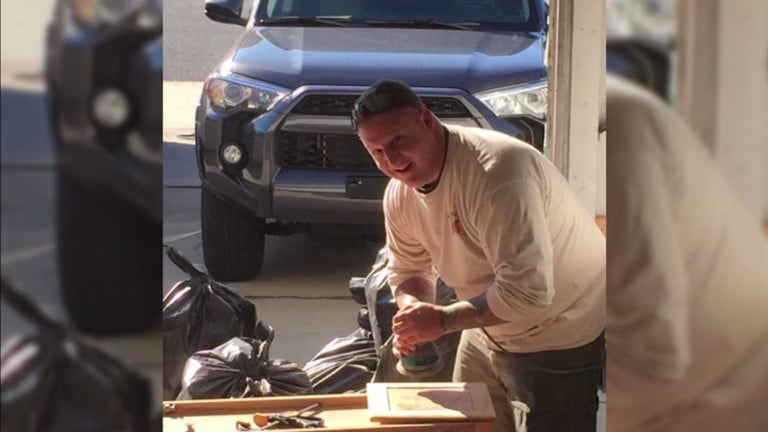 From felony theft charges to allegations of investment fraud, 47 ABC's Special Investigative report takes a hard look at the accusations levied against Berlin man, Joseph Carlini.
Also, because of an ongoing Maryland State Police criminal investigation on Carlini, the Worcester county State's Attorney's office is now exploring the possibility of bringing back an old charge of unlicensed contracting.
The charge stems from a complaint filed by Celeste Dodson of West Ocean City.
"My entire life savings has been put into this," Dodson tells 47 ABC's Emily Lampa, showing her around her home. She claims she needed to put $85,000 dollars into her West Ocean City home since hiring Joseph Carlini to do home renovations in 2014.
"There was a load-bearing wall here that he took down, so when he took that wall down just a few months later, this entire wall was sinking and crumbling," Dodson explains what she says had to be fixed. "And he also cut a small hole out there, which was also load-bearing. So this whole section of the house was literally caving."
Celeste Dodson is one of two woman who went to a MSP detective, accusing Carlini of unlicensed contracting and shoddy workmanship, "He had removed my original cabinets, boxes and the doors to paint them. And when I got them back, the boxes were broken. There were hunks missed out of them. The doors were sanded down…I had to go buy all brand new cabinets."
Dodson and Young's cases went to court in February 2016. 47 ABC was in the courtroom that day when Carlini accepted a plea deal, pleading guilty to one of the two charges.
The other charge, stemming from the accusations made by Dodson, went on the stet docket. Essentially, this means the charge was suspended with the possibility that it could be brought back, should Carlini re-offend. That day after paying a $300 fine, he walked away with no jail time.
"He will boast that he got a $300 dollar fine and he minimizes what he's done," explains Dodson. "What I would have liked to have seen happen in the hearing that day is for him to be held responsible for what he did. Whether it be financially or whether it be serving time."
Because he pleaded guilty to the one charge, Carlini did have to go to jail for 90-days for violating his parole on a prior theft scheme conviction in Montgomery County.
But now that Carlini is facing two new felony theft charges in Worcester County, and Maryland State Police have an open investigation on him, the State's Attorney's office is considering reactivating that suspended charge.
Celeste admits this is huge for her case, but she's hoping more claims made against Carlini will make it to trial, as well, "There are so many voices speaking out. There are so many people who have pressed charges. It's not made up.
"I would encourage people to call the state's attorney's office. They're here to help us. Call them. Let them hear our voice. Call the detective handling the case. If we don't report it, we're never going to stop him. Never."
One of the people speaking up now is Corey Grove, a carpenter who tells 47 ABC he's worked as a subcontractor in the Ocean City area for the past 9 years.
He claims he worked with Carlini through a company called APEX Property Maintenance for a few months in 2012 and 2013.

Grove says it was on a job in Ocean Pines that he started questioning Carlini, "And that's kind of where Joe and I had our falling out is that I didn't agree with some of the ways he was doing things and I would voice my opinion and it wouldn't go anywhere."
Grove tells us he ended up walking off the job in Ocean Pines and that Carlini refused to pay him $2,000 for the work he completed, "I called the HOA of the place we were working at and city hall."
Although Carlini turned down our requests for on-camera interviews, he did post an online video addressing Grove's accusations, "Corey Grove, oh yeah, I owed him money from working at the construction company…You cost me $900. You got a boom lift stuck in the friggin' swamp in Ocean Pines."
Grove admits that did happen, but disputes the cost of the tow. He says he did make a partial payment towards that expense. But Grove believes Carlini didn't pay him because he reported Carlini to the authorities.
According to the Maryland Department of Assessments and Taxation, Apex Property Maintenance was a business owned by Jaime Lyn Hamer, Carlini's girlfriend.
On the question of contracting without a license 47 ABC obtained four documents signed by the Executive Director of the Maryland Home Improvement Commission.
They are letters sent to a state investigator in September 2015. They clearly state that the commission could find no identifiable information on Jamie Lyn Hamer, Jamie Lyn Hammer, Apex Property Maintenance, and Joseph Anthony Carlini; and that "a further check of the records" revealed that these individuals have "never been licensed as a contractor, sub-contractor or salesman with the Maryland Home Improvement Commission."
Grove and Dodson both say, like others who have spoken to 47 ABC about Joseph Carlini, that they aren't speaking out now in the hopes of getting their money back. "It's about stopping people like that in our community," claims Dodson saying people should not hesitate to speak out. "It's giving him permission to go onto the next person because if we don't notify people, then everybody will think he's okay.">
"People are just tired of dealing with him, getting over on them. Just the ordeal of it all," adds Grove.
If you have information that you would like to share with Maryland State Police, e-mail Det. Ted Buck at theodore.buck@maryland.gov
Carlini goes to court for two felony theft charges on April 3rd.
A civil lawsuit against him, for unpaid debt, goes to trial on February 1st.