Former restaurant employees blow whistle on Joseph Carlini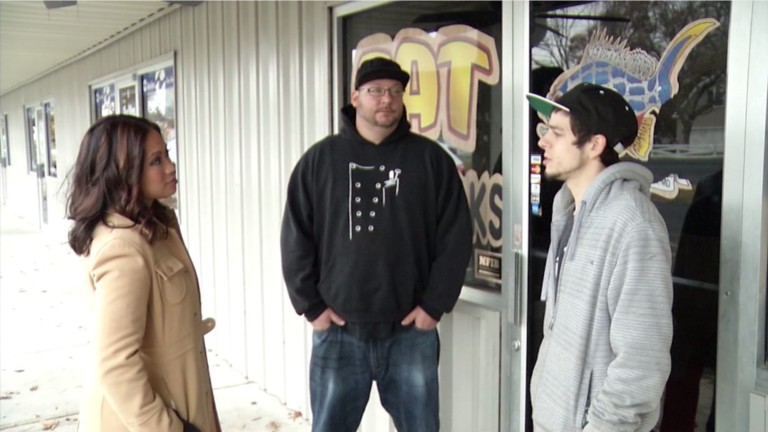 Maryland State Police are now investigating Joseph Carlini, a Berlin man accused of felony theft and unpaid debts. Although his criminal trial on 2 theft charges isn't until April, some of his accusers say they can't wait until then to speak out.
Casey Burke from Ocean City, "He wasn't paying bills. He wasn't paying his employees. He would write bad checks."
Burke tells us Carlini hired him in November 2015. He worked at Fat Fish in West Ocean City until about October 2016. Burke says he witnessed the restaurant's rapid decline over that year, "I went from being a line cook to doing everything in here. The last day here, I was doing everything a manager would do. I hired people. I did orders. I paid people from bad checks that he would give me. I would write the checks and I would later get a phone call telling me that they were no good."
This concerning behavior is why Casey Burke and another former employee, Mike Wagner, say they went to police. The two say the tipping point was in October when Carlini asked them both to help him transfer kitchen equipment from the West Ocean City location to a new restaurant he was setting up in Salisbury, at the time, the Fat Fish Grill.
"He didn't clean one piece of equipment," Wagner tells 47 ABC. "He took everything to that brand new store dirty. We had to sit there and scrub it after it was in the kitchen. He obviously had to get it out of here before the landlord saw him taking it."
"He had us move it to Salisbury," adds Burke, "and little did I know that most of that stuff was 'stolen'."
Whether it was in fact "stolen" is unconfirmed. 47 ABC reached out to H & M Wagner & Sons Foodservice which we're told owned that kitchen equipment. But we're still waiting on a response.
47 ABC also called other food brokers that Burke claims came to the restaurant looking for payment; namely US Foods and Sysco Foods.
Only the representative from Sysco returned our calls. He said Fat Fish doesn't have outstanding debt, but he admitted they cut ties with the restaurant because of difficulty getting paid.
"They would come in and ask where their money was," claims Burke. "And I had to tell them that I didn't know and get ahold of Joey and Jamie and tell them that they had people up here asking for money."
Jamie Hamer is Joseph Carlini's girlfriend. The Maryland Department of Assessments and Taxation provided 47 ABC the 2016 Annual Report and Personal Property Return for Fat Fish, Inc. which shows Hamer is the owner and President of the company.
But the "Articles of Incorporation for a Stock Corporation" document shows it was Carlini who opened the business in April 2015. However, he is not a co-owner. He's listed as the company's sole member of the board of directors.
The Fat Fish in West Ocean City closed for business shortly after the kitchen equipment was removed.
"He wasn't pulling in any business," states Burke. "He wasn't making any money. So, he couldn't pay me or the three other employees that were here. And that's when he came to me and asked me if I could pay them out of my pocket."
Between allegedly paying other employees, and his own paychecks apparently stopping short, Burke claims Carlini owes him around three thousand dollars. Wagner says he also has unpaid hours.. But both men say the reason they're speaking out now isn't about the money.
"Hopefully with this getting out there," Burke tells 47 ABC, "hopefully everybody can watch their backs and make sure that this doesn't happen to them."
Recently on Facebook, a number of Ocean City residents joined an online conversation about Carlini. Now hundreds of people contribute to the post, with dozens accusing Carlini of suspicious activity,
We reached out to Carlini directly about the allegations. He told 47 abc via text message that Burke and Wagner lied about him. He turned down a number of our requests for on-camera interviews.
Among the hundreds of online comments, there are claims that Carlini was soliciting people to invest thousands of dollars in the restaurant.
When 47 ABC asked Wagner and Burke about this, they stated with laughter "everybody that walks through the front door. Anybody that has money in their pocket. He doesn't even have to know their name."
Soliciting investments for a restaurant is not necessarily against the law. But in terms of Carlini, he is legally barred from soliciting investments in the state of Maryland.
A Final Order issued in 2007, by the Securities Commissioner of Maryland, states Joseph Carlini "may not participate in securities or investment advisory business in Maryland including but not limited to the offer, sale or issuance or the giving of advice regarding promissory notes, stocks, bonds, investment contracts, and all other instruments that qualify as securities."
This determination stemmed from a theft scheme investigation, which looked into Carlini, as well as two of his associates who operated a company called Ardin Logistics, LLC. The company was touted to investors as a business that bought salvaged shipping containers and sold the contents for a profit.
But the SEC found all the invested money was actually being deposited into a bank account and used to fund travel, dining, entertainment, and other personal expenditures.
Over the course of two years, detectives found this group defrauded 41 victims of hundreds of thousands of dollars. They estimate 7.2 million dollars passed back and forth through various bank accounts.
A criminal investigation soon followed, which eventually resulted in Carlini pleading guilty in Montgomery County Circuit Court to charges of felony theft scheme, fraudulent practices in the sale of securities, and acting as a broker without being registered by the State.
He went to prison. But he got out early, with the stipulation that he make money to pay back his victims. Carlini acknowledged his past in an online video post, "Whatever happened 10 years ago is 10 years ago…"
We're told a violation of an SEC mandate isn't necessarily criminal. But one legal analyst who specializes in securities law directed us to Justia.com which shows that it could be considered criminal if a person is found to have "willfully violated" the SEC Final Order. And the only way to avoid prison time would be, "…if the person proves that the person had no knowledge of the rule or order."
Although the SEC couldn't confirm nor deny an active investigation against Carlini, a spokesperson from the Maryland Attorney General's Office tells 47 ABC all claims reported to the state will be investigated. Justia.com explains further that "The Commissioner may refer available evidence concerning violations of this title or of any rule or order under this title to the State's Attorney or the Attorney General who, with or without the reference, may institute the appropriate criminal proceedings under this title."
Burke and Wagner aren't the only former Fat Fish employees saying Carlini solicited investments. Joe Boncore is the original head chef of Fat Fish OC, "He likes getting people to invest. He's asked every bartender, every waiter, he asked me to sell my condo."
When we asked Boncore how much Carlini would ask people to invest, his answer, "Anywhere from 30 to 180-thousand dollars is what he would ask for. And he was always, 'I'll draw up a contract.'"
Boncore himself claims he left the restaurant shortly after creating the menu. There was apparently a contract dispute, and he was not getting paid.
"Looking back on it, I wish I never did that menu, because it seems like he's done nothing but hurt other people with it," stated Boncore regretfully. "I feel bad for the guys in the kitchen who put in the time and the sweat and they all left because it's a pattern with him."
Chef Joe Boncore showed 47 ABC the contract he had issues with. And he's not the only one who came forward to provide us with investment documentation. In Part 3 of this Special Investigative Report a former associate of Carlini's accuses him of investment fraud.