On the Job: Alexander's Marine Service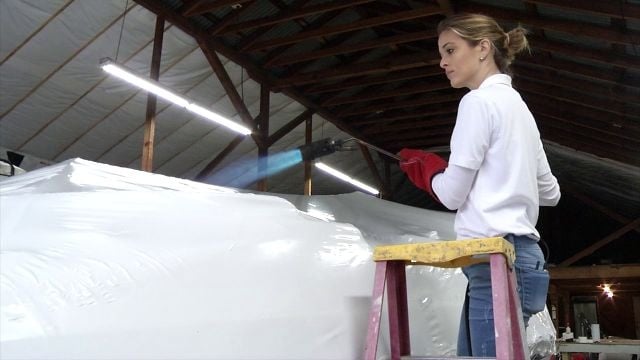 Boat repairs, winterizing motors, shrink wrapping, Alexander's Marine Service does it all. Brothers Rick and Brian Alexander started the business 7 years ago and for the first two years they did all their work on the road. But 5 years ago they found themselves a home in Pittsville.
As far as prepping a boat for the winter, Rick says there's a lot of steps that go into it. You need string to support the tent that you make for it, you need poles to keep the tent standing, shrink wrap to cover it and a shrink wrapping gun for the final step.
The first thing you need to do is set up a guide for your cover. For this you have to loop thick string through different parts of the boat and make various knots. After all your knots are made, you cut your string right under your knot and now you have a hole to run your string through.
Next up, you run the string across the top of the boat to create a tent. After that you have to climb up into the boat, create more knots and place your poles to create the tent affect. To stop the rope from creating holes on the boat, they put small pieces of carpet underneath the strings. Final step on the boat, taping the string to the top of the pole to ensure it wouldn't slip off. Time to prepare the boat for shrink wrapping!
The first step in shrink wrapping, pulling the wrap over your boat. Once your boat is completely covered, you take a mental note of where your string is and cut off the excess liner. Rick says you want to leave about a foot. After the excess liner is cut you have to tuck the liner under the ropes.
Time for the blowtorch. Brian says as soon as you see the material change and it becomes smooth, that's when you move to the next spot. Not only do you have to do the sides of the boat but you have to do the top of the boat too, which requires getting on a ladder. The last and final step, putting in a few vents to allow the boat to breathe during the winter months.
Next week On the Job 47 ABC heads to a construction site in Berlin to help paint it.