Rookie Blue Angels excited for perform in Ocean City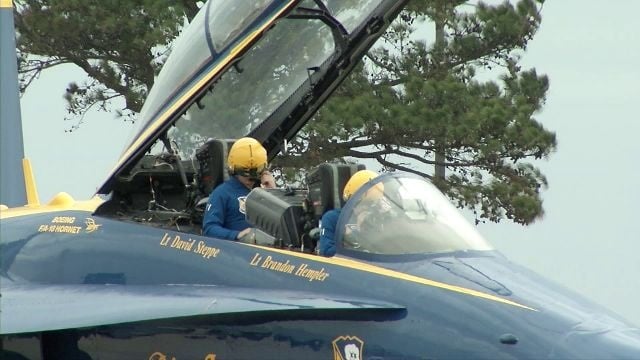 You see them before you hear them, but as soon as you lay eyes on the U.S. Navy Blue Angels your inner kid screams for joy. The Blue Angels had that affect on a small group of media as they flew in to NASA Wallops Tuesday. The Angels stopping by to plan for 2017 Ocean City Air Show and to get folks on Delmarva excited.
The excitement though is not limited to fans, the men and women who sit in those cockpits share that same feeling.
Lt. Brandon Hempler and his co-pilot Lt .David Steppe are the new-comers on the team and fly in Blue Angel seven. That's why this up-coming show season will be particularly special for them.
Hempler and Steppe became Angels roughly three months ago and Hempler said often he has to pinch himself, to remind him that he's not dreaming. The memory of the call that informed him of his new job is still fresh in his mind.
"I was speechless for a couple minutes after I found out that… you know I applied for two years and I didn't make it my first year, but I made it my second year and the feeling is just so special," Hempler said.   
Steppe has compared the moment he got the call to the day he got married. When asked what the best part of being an angel is he replied, "I mean just being part of the team. That's the single word if I had to say, just being part of this team."
As excited as they are for the Ocean City Air show they both say they're even more excited for the fans that will pack the beach to watch.