Latest: Trauma chief: Patients have spinal, facial injuries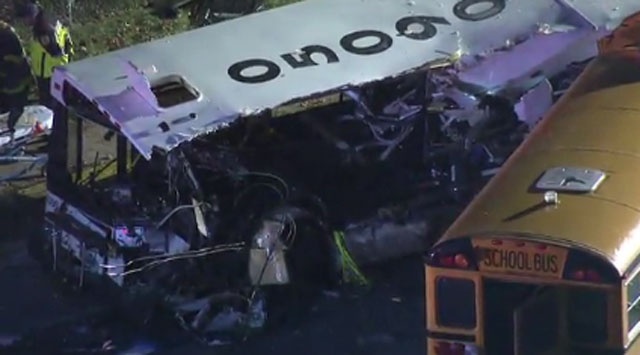 (AP) – The Latest on a fatal crash involving a school bus and a commuter bus in Baltimore (all times local):
12:15 p.m.
 
The trauma chief at a hospital where five people were taken after two buses collided in Baltimore says the patients' injuries are typical for motor vehicle accidents, including spinal column and facial injuries.
 
Dr. Deborah Stein told a news conference Tuesday that one of the five patients is in critical condition, three are stable and one who was initially stable has been downgraded to serious condition. One patient is an adult male, and four are women from their mid-20s to mid-40s.
 
Stein says at least one will need surgery and another will likely be discharged soon.
 
She says it was "all hands on deck" at the University of Maryland R Adams Cowley Shock Trauma Center. The crash happened near a shift change, but not a single overnight worker left the building. She calls it "really quite extraordinary."
 
___
 
Noon
 
One of the first people at the scene of Tuesday morning's fatal bus crash was a passing motorist named Matthew Feldman, who told WJZ-TV that he and another man pulled up and tried to help people before emergency responders arrived.
 
Feldman says the drivers of both the school bus and the Maryland Transit Administration bus appeared to be in very bad shape. (Police have confirmed that the school bus driver was killed, but have not identified any of the dead or injured on the commuter bus.)
 
Feldman said he and the other man tried to pull glass off of a woman pinned by the door of the MTA bus, and could hear people screaming. He said the driver's side of the MTA bus was a mess of twisted metal with people's arms and legs sticking out.
 
___
 
11:30 a.m.
 
Federal investigators are headed to Baltimore to probe a crash involving a school bus and a commuter bus that killed six people and injured ten.
 
Police spokesman T.J. Smith says the school bus rear ended a car, struck the entrance to a cemetery and then veered into oncoming traffic, hitting the Maryland Transit Administration bus near the driver's seat and raking down the side.
 
National Transportation Safety Board spokesman Keith Holloway said by telephone Tuesday that the highway team is looking into this crash because it involves two large vehicles, and because the NTSB has looked at school bus and transit safety in the past.
 
___
 
9:45 a.m.
 
Police say at least six people are dead and 10 more are hurt after a school bus crashed into side of a commuter bus in southwest Baltimore.
 
Baltimore police spokesman T.J. Smith told a news conference the school bus rear ended a car Tuesday morning, then struck a pillar at a cemetery and veered into oncoming traffic, hitting the Maryland Transit Administration bus on the driver's side.
 
Smith says the school bus driver is dead. He says the only other person on that bus was an aide, who survived.
 
Baltimore Fire Chief Niles Ford says firefighters are still working their way through the interior of the commuter bus, looking for victims.
 
—-
 
9:15 a.m.
 
Police say a school bus and a commuter bus crashed in Baltimore, killing six people.
 
Baltimore Police tweeted that no children were aboard the school bus that crashed early Tuesday morning.
 
Baltimore public schools spokeswoman Anne Fullerton says no students are among the fatalities.
 
University of Maryland Medical Center spokeswoman Lisa Clough says the hospital received one patient in critical condition and four others in fair condition.
 
Video from above the scene while it was still dark shows the crumpled front of a yellow school bus smashed into the side of a Maryland Transit Administration bus. The driver's side of the MTA bus is ripped off with debris spilling onto the road.
 
There was no immediate word on what caused the crash.