Cambridge man & 2 Georgia men arrested after car chase in MD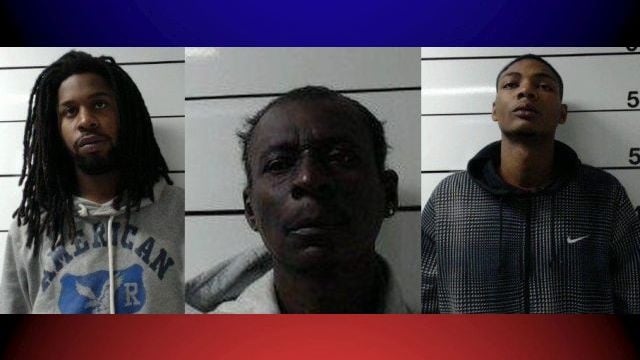 On Wednesday, members of the Dorchester County Sheriff's Office say they arrested three suspects who were wanted for their involvement in a series of thefts, forgeries, and identity theft.
According to the report, they were taken into custody after a car chase that started on Locust Street in Cambridge and ended after a collision on Jenkins Creek Road. Two Dorchester County Deputies and a suspect were reported to have received minor injuries, and a Sheriff's Patrol car along with the the suspect car were damaged. According to officials, all of the injured persons were treated and released.
The suspects are identified as 52-year-old George Lester Perry Jr. of Cambridge, 25-year-old Demario Quintavious Warner of Georgia, and 26-year-old Barrington Leander Ridley of Georgia. The charges are as follows:
George Lester Perry Jr.-
6 counts of theft over $1,000 but under $10,000
4 counts of conspiracy to commit theft over $1,000 but under $10,000
Theft under $100.00
6 counts of forgery and uttering private documents
Issuing false documents
Identity theft
He was ordered held on $30,000 bond
Demario Quintavious Warner-
Assault on a law enforcement officer
Reckless endangerment
Fourth degree burglary
Resisting arrest
Hindering a law enforcement officer in the performance of his duty
20 counts of issuing a counterfeit check
7 counts of possession of a counterfeit documents
2 counts of a continuing theft scheme over $1,000 but under $10,000
2 counts of theft over $1,000 but under $10,000
4 counts of intent to counterfeit an order for payment of money
He was ordered held on $20,000 bond
Barrington Leander Ridley-
Resisting arrest
Hindering a law enforcement officer
Theft under $100
2 counts of continuing theft scheme over $1,000 but under $10,000
2 counts of theft over $1,000 but under $10,000
20 counts of issuing a counterfeit check
7 counts of possession of counterfeit documents
4 counts of intent to counterfeit an order for payment of money
He was ordered held on $15,000 bond