Local restaurants participate in 9th annual taste of the town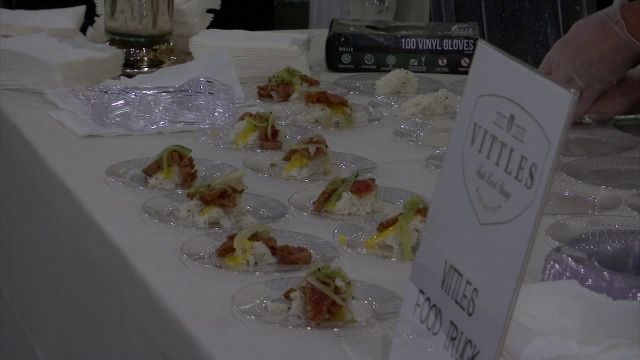 Tasting a little bit of everything. That's what folks got to do tonight at the 9th Annual Taste of the Town. A number of local restaurants showed off their culinary talents to compete to be the taste of the town winner. 7 restaurants – and one bakery to be exact.
Put on by the young professionals committee of the Salisbury area Chamber of Commerce, it's not just about the $100 cash prize at the end. Sophia Smecker of the Salisbury Chamber of Commerce says, "It's an opportunity for us to really highlight the local restaurants that we have here in the area."
Costing just $20 to get in, once inside, food and drinks are unlimited. Attendees turn in tickets for their favorite dishes and the restaurant with the most tickets at the end wins. Participating restaurants include Brew River, Market Street Inn, Cake Art and Mojos. Something new this year? Vittles food truck.
Partner and chef Jeremy Dashiell says, "For us it means a lot, we're the little guy, we just got on the scene. For us it's about putting out our name and putting out good food for the people."
One restaurant not so new to the event, Roadie Joe's who has been coming to the event for 4 years. Owner Jeremy Norton says it's a huge opportunity for them now that they have a culinary trained chef. Norton tells 47 ABC, "Seventy five percent of people would never decide to come to Roadie Joe's for food but now they will because our food is excellent."
Abbott's on Broad Creek say they got involved last year after the chamber reached out to them and it was all worth it, because they won last year. Chef owner Ryan Cunningham says, "We're back again this year to defend our crown and keep the momentum going."
Based in Laurel, Delaware, they offer traditional American cuisine. Cunningham says they're trying to establish relationships in the Salisbury area, so it was only fitting for them to come back to the event. Cunningham tells 47 ABC, "It's just meeting new people, especially being a young professionals like myself, you know meeting other young professionals is really cool."
It was all worth it again for Abbot's on the Creek as they walked away winners again.