Flaws in Wicomico health impact report listed by Johns Hopkins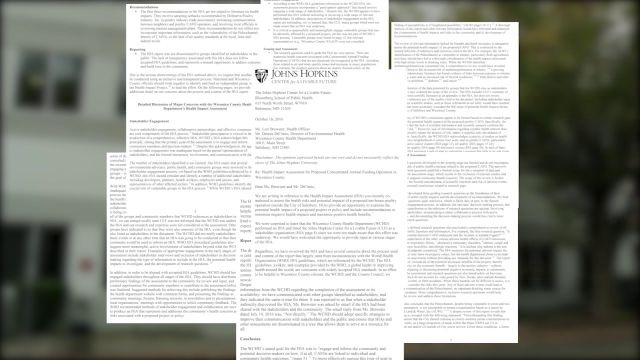 Questions have been raised by the Johns Hopkins Center for a Liveable Future ('CLF') regarding a health impact assessment performed by the Wicomico County Health Department.
The assessment, also known as an HIA, is in relation  to the ten-house poultry operation expected to be eventually built between Northwest and Naylor Mill Roads.
HIAs are done to examine the potential health impact of the proposed projects or policies, such as the poultry project in question.
The World Health Organization ("WHO") cites recommendations from HIAs are "produced for decision-makers and stakeholders, with the aim of maximizing the proposal's positive health effects and minimizing its negative health effects."
Jack Lenox, director of Planning, Zoning and Community Development for Wicomico County, tells 47ABC the project has gained approval for building permits; however, there is no timeline of when the project may begin building.
The CLF claims the Wicomico County Health Department listed them as a stakeholder organization in the assessment, but the CLF says they were not a stakeholder and were never made aware of the report.
Still, researchers examined the assessment and released their list of concerns in a press release sent Thursday.
The press release included a letter dated on October 18 and sent to the Wicomico County Health Department.
Included in the letter were concerns over research questions the health department reportedly used to guide the report. CLF claims the questions were "very narrow" citing not enough research done into air and water quality along with potential increases in insect populations.
Lenox tells 47ABC, the project has not received a permit from the Maryland Department of the Environment to occupy the houses.
Dr. Jillian Fry of the Johns Hopkins CLF admits a new assessment is not required to gain this kind of permit; however, she says they have concerns should the county choose to pursue without a new assessment.
"If the county allows the process to move forward based on the findings of this health impact assessment, then they're really sending a message to the residents that they're really willing to rely on a highly flawed health impact assessment in order to make their zoning decision," explains Dr. Fry.
Dr. Fry says the organization is suggesting for the state of Maryland to get involved and work with the county.
From there, they would like to see an independent and trained group perform a new HIA which meets the guidelines of the WHO.
47ABC has reached to out to multiple sources at the Wicomico County Health Department for a comment on the matter.
We have not received a response as of 6:30 p.m. Thursday.
For a copy of the letter, click here.