Dieticians: Vegan diets can be healthy for infants, toddlers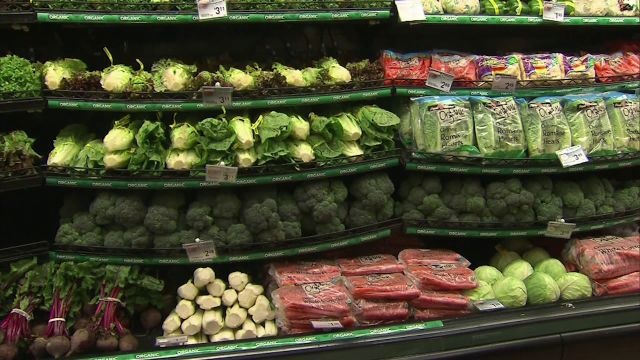 A Pennsylvania mother is at the center of a malnourishment case, after being charged with child endangerment.
According to the Associated Press, she claims to be vegan and feeds her baby nothing but small amounts of nuts and berries; however, the charges are the latest in a string of cases involving parents feeding their babies what they deem to be a vegan diet.
Most pediatricians and nutrients agree, it's perfectly fine to feed babies a vegan diet but is there a line between healthy and hazardous?
Vegan or not, Tamara Giles says it's is all about balance when it comes to nutrition. Giles, a clinical dietician with Peninsula Regional Medical Center, says it's not just in terms of what a person eats but also the volume.
"If you're feeding a toddler, a preschooler a diet that's really high in fiber, they may not be getting enough calories or they may not be getting nutrients that they need because they're getting so full from the fiber," she explains.
Giles says it's "perfectly healthy" to raise a child on a vegan diet, free of all animal products including dairy and eggs.
According to the National Center For Biotechnology Information, vegans represent about two percent of the U.S. population.
The American Journal of Clinical Nutrition reports in general, people who don't eat meat are at a lower risk of cardiovascular disease and obesity. Despite this, parents 47ABC spoke to say they're skeptical of placing young children on vegan diets.
"I do think that a parent should watch how their kid is eating, so they don't struggle with obesity but I think a kid should have meat and dairy in their diet," says Salisbury resident Terry Houlihan.
Pocomoke City resident Cassey Merritt says the choice should be left up to the children.
"Unless it's something that they need health-wise, I think they should let their children make their own decisions regarding that," says Merritt.
Like Giles, Laura Marinaro. agrees with vegan diets as a healthy alternative.
Marinaro, the university dietician at Salisbury University, tells 47ABC it can cross into the territory of unhealthy when nutrient categories are eliminated.
"So if you have a child who's not getting any protein, not getting fiber, things like that where you're really significantly restricting it, that could be an issue," explains Marinaro.
For all infants and toddlers, Giles recommends diets higher in fats.
"That's because…your growing brain, you do need that healthy fat in your diet, so whether it's coconut oil or avocado, getting some fat from the nut butter," says Giles. "Fat in their diet is something that we want for their brain to grow properly."
Both Giles and Marinaro say a good rule of thumb is ask for professional medical advice from dieticians if parents and caretakers are unsure.