AFSCME MD rallies in Salisbury urging Gov. Hogan to fill jobs and give pay raises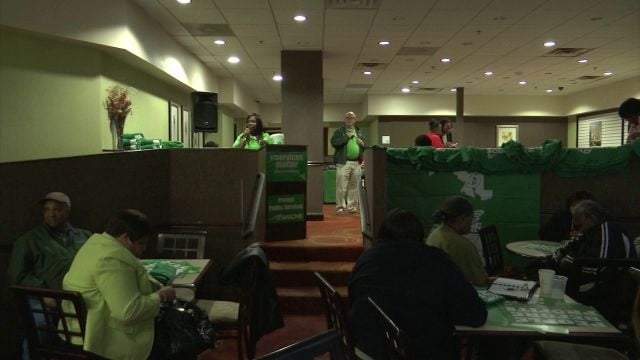 Over $6.7 million. That's what state workers in Maryland claim could be put back into the state economy if certain positions were filled and other workers got raises. The claim is that Maryland is losing money by paying overtime for current state employees. On Thursday members of AFSCME Maryland held a rally at the LaQuinta Inn.
47 ABC spoke with Deborah Williams, president of 347-A corrections. She represents all the corrections officers on the Eastern Shore. She says, "We want our governor to understand that he needs to invest in Maryland. If we don't have the proper staffing we're not servicing the persons who are incarcerated who are inmates and that's what we're charged to do. If we're not properly staffed then we have a lot of overtime issues, we have a lot of persons who are out sick, we have a lot of areas that are not really filled."
Williams claims that when Governor Larry Hogan was elected into office he promised they could get staffed. But it hasn't happened. Williams tells 47 ABC, "We're all working families here and we need to be accommodated for."
Another institution that Relford Matthews says is in need? The University of Maryland Eastern Shore, where Mathews is a maintenance mechanic. Matthews tells 47 ABC, "We are short of staff and at a time when we need to be better staffed." Matthews says changes have been made at the school that have been detrimental to the campus. For example, out sourcing their food service.
Matthews tells 47 ABC, "If you don't fill the position then you think you're saving money and profit but in fact one of our problems enrollment is down. Enrollment is down because we don't have the positions the people don't feel as comfortable as they should be the food is not as good as it should be and a lot of things that we've done are a detriment to UMES."
Anissa Piercesessoms is the president of the local 1081 AFSCME. She claims Governor Hogan looks at the issue at a business angle rather than the state as a whole. Piercesessoms tells 47 ABC, "I'm here just to make sure that he knows there's a sense of urgency. He's doing what he needs to do as a governor, but I think he needs to focus and zero in on the people that actually really matter and that's us here in the state, the ones that are actually doing the work here in the state of Maryland."
According to ABC affiliate WMAR, back in May, Governor Hogan announced that state employees would be able to keep their pay raises. The governor said that $68 million would be taken out of the budget to maintain the 2% cost of living adjustment into the next fiscal year.