"No turning back" on building of new high school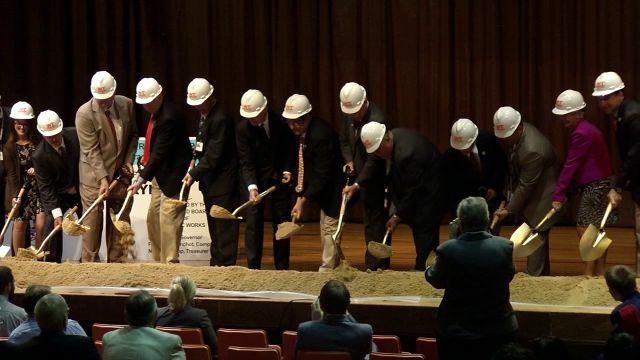 At the end of the school year, officials in Dorchester will begin construction for a new North Dorchester High School.
The school will replace the current North Dorchester High School on Cloverdale Road, first built in 1954.
The project will cost a total of about 48 million dollars to construct. Ricky Travers, president of the Dorchester County Council, says about 20 million dollars will come from the county.
Travers was among several other county and state leaders at an official groundbreaking for the school Thursday.
"With the commitment of the council, with the commitment of the school board and with the commitment of the state behind us…the design has been done, the dirt has been turned," he says. "This school will be built."
The new school will include six separate buildings will be connected by covered hallways, enough to hold more than 600 students. The current school holds 540.
Superintendent of Dorchester County Public Schools Dr. Henry Wagner says this project long overdue. He tells 47ABC, securing the guaranteed construction of a new home for the NDHS Eagles has been a pivotal point in his career.
"Everything that we do is for them [students], including obviously building a new school and I will tell you as an educator, it's very important to feel as though you left a legacy," explains Dr. Wagner.
The projected occupant date is Fall 2019.