Man dies after swimming along Assateague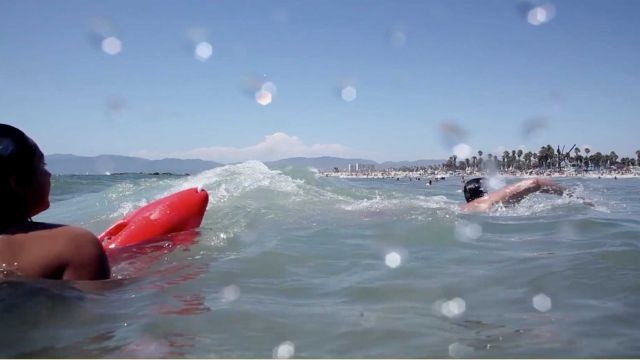 Few details about the victim have been released but 47 ABC spoke with witnesses on the scene who paint a very clear picture of what happened today. An affirmation, that the waters of the Atlantic can be deadly at this time of year.
"We were out there surfing and we saw this like white blob and my buddy said hey it looks like a body," said witness Garret Driscell.
Driscoll is a local surfer and he and 7 of his friends were taking advantage of the big waves Tuesday afternoon, near Assateague island national seashore.
And what they saw on the water was in fact the body of a forty-five year-old man.
"I thought it was just a dolphin so we said let's just take one more wave and about 10 minutes later we saw the beach patrol and go carts come over here and pull a guy out of the water and start doing CPR on him," said Driscell.
Beach Patrol and Assateague lifeguards were on the scene within minutes. An employee of the national seashore tells 47 ABC the man and his 16 year-old son were out swimming  and it's unclear whether the current carried them away  but they were outside of the designated lifeguard zones.
They two were separated in the water. The father's body washed up on a sandbar.
It was just around 1 p.m.  when rescue teams pulled them back onto the beach. The father was unconscious and his son responsive but exhausted. It was at Atlantic General hospital where the father was pronounced dead within the hour.
47 ABC also spoke with one of the lifeguards that was on duty  and he says the combination of hurricane Gaston milling in the Atlantic and Tropical Depression eight moving just south of us that made for some aggressive waves and dangerous rip currents.
"Anytime someone drowns it's a very preventable accident," said Captain Butch Arbin of Ocean City Beach Patrol. "When people swim outside of the protective area they're really swimming at their own risk and this time of year it's actually riskier then it is at any other time of the year we have tropical activity in the Atlantic and even though it's hundreds and hundreds of miles away it pushes water in front of it and that brings more water into the beach."
Rip currents are the third leading cause of weather related deaths, according to the national weather service. Life guards say they fly a red flag when rip currents are nearing a danger zone and two red flags if people are not permitted in the water.
However, in the instance that you are caught in one of these currents they recommend that you swim parallel to the shore to escape.
Members of beach patrol say to use the acronym "RIP" to remember how to handle yourself in the instance of one of these emergencies.
R – stands for 'relax.'
I – for calling out "I need help."
and P – for parallel — as in 'swim parallel to shore."