Steps toward immigration reform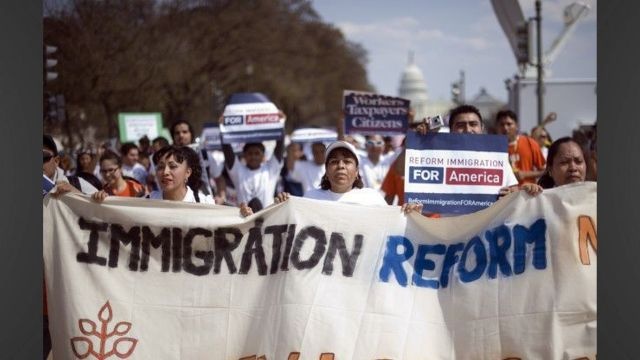 A major issue this election cycle is immigration reform. Recent polling suggests two out of three Americans support a path to citizenship for immigrants living here illegally,  if they meet certain requirements over time.A number of groups are pushing for reform and today they came together for National Action Day. This happened nationwide,  including in Wilmington Delaware.
He came to America from Kuwait in 1970 at age 16 to study at the University of Delaware. Wednesday he joined other Delaware leaders in Wilmington to present research about how immigrants contribute to the First State.
"First start with the numbers  is there an impact. Is Delaware – how many immigrants are there ? And how many are working ? How many are legal? Illegal? Those kind of conversations because we don't have facts so we react by emotion," said George.
He and others , like La Esperanza and the Partnership for a New American Economy or N.A.E support what they call sensible immigration reforms. NAE is a bi-partisan group of more than 500 mayors and business leaders. According to their research in 2014 more than 3700 immigrants in Delaware are self-employed and have paid 362 millions dollars into Social Security and Medicare additionally, some 41,000 Delawareans are employed at firms owned by immigrants.
George says he believes the US is well-positioned to attract the best and the brightest from around the world and as opposed to china, Russia or Japan, which he says aren't as inviting to the enterprising individual. Robert Herrera is that kind of individual as was his father.
"He sort of went above and beyond to make sure that we could acclimate and didn't have the sort of struggles that he had," said Herrera.
Herrera calls his the classic American story. His dad came to America from Mexico as a young man, was educated and instilled values like hard work in his kids. Robert earned his Architecture degree from Columbia and became a successful local architect. He designed the Mill Space, a co-working venue designed to bring business and thought leaders together in a collaborative work space and which hosted Wednesday's event. Herrera credits his dad for much of his success and for why he's so passionate about immigration reform.
"I don't think we need to go extreme one way or the other but I think there is a happy middle ground that works – that both parties may not be perfectly happy but that's what America is right? That's what it's been to me," said Herrera.
Many speakers Wednesday said the main goal is to open the conversation and keep it open as part of an effort to spur Congressional action.
For more information on the campaign visit https://www.reasonforreform.org/