MSDE sends out release for 2016-2017 academic year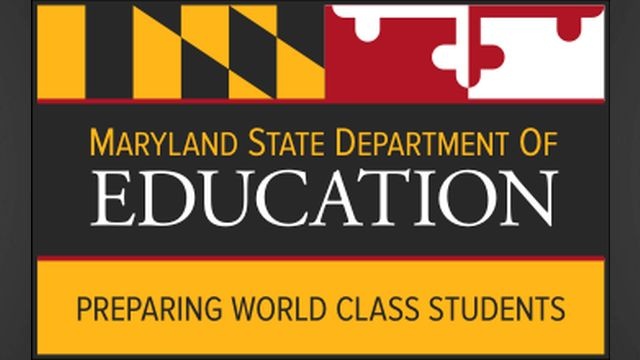 The Maryland Department of Education sent out a release with information about the 2016-2017 school year for programs across the state.
Maryland public school systems begin re-opening on Wednesday, and apparently there is another new record number of students that are expected.
MSDE officials say that by the time all schools open their doors on September 6, more than 880,000 K-12 students are expected to fill classrooms and another 250,000 children will be involved in some form of pre-kindergarten, Head Start, or licensed childcare program.
"Maryland schools are some of the best in the nation, and this time of year is an exciting time for both students and teachers," said Governor Larry Hogan. "We wish Maryland's students, educators, and parents a safe, productive, and successful school year."
Schools this fall reportedly begin the fourth full year of implementation of the stronger academic standards designed to better prepare students for both college and career.
"Our goal is to provide students with a foundation for what lies ahead, be it college or career," said Dr.  Karen B. Salmon, State Superintendent of Schools.  "We need Maryland high school graduates to be prepared for the jobs of tomorrow."
Noteworthy This School Year
Enrollment & Demographic Trends
Enrollment in Maryland public schools appears primed to surpass its record of 879,601 students, set last year.  Maryland school enrollment has been steadily increasing since 2009, when the student population stood at 843,861.
Maryland's student population also has experienced major demographic changes over the past 20 years. Maryland has educated a majority-minority student population for  a decade.  White students represent nearly 40 percent of the student population, followed by African-American students, who make up 34 percent of the student population.  Both the White and African-American student populations have been in decline as a percentage of the student body in recent years.  
Hispanic students represent 15 percent of the student body, while Asian students account for approximately 6 percent.  Percentages of Hispanic and Asian students have been steadily rising.  Also increasing is the percentage of students identifying themselves as two or more races, which is at 4 percent.
Also on the rise in the State's schools is the percentage of students coming from circumstances of poverty.  Last year, for example, 51.1 percent of Maryland elementary students were eligible for free- or reduced-price meals.  Ten years earlier that tally stood at 38.1 percent – a dramatic increase over the decade.
More information on Maryland school demographics can be found on the Maryland Report Card website.
Strengthening Achievement, Accountability
Maryland's College and Career Ready Standards have been in place in all public schools for three years or more, and already there are signs that the new core curriculum is having a positive effect.  Reviews from publications, including Education Week  and the National Review found the new standards more challenging than previous state standards.
Results from the second year of the new State assessments will be released for grades 3-8 later in August.  The PARCC state assessments, aligned to the Maryland College and Career Ready Standards, replaced the math and English MSAs in 2014-15.  As expected, results from the initial administration reportedly found PARCC to be significantly more rigorous.
The latest revision of the federal Elementary and Secondary Education Act was signed by President Obama late last year.  The new law, the Every Student Succeeds Act,ESSA, provides a long-term, stable federal policy that gives states additional flexibility and encourages states, local school systems, and schools to innovate while at the same time holding all accountable for results. The Maryland State Department of Education is working with the broad-based  ESSA Stakeholder Committee in the review of the new law and development of Maryland's ESSA Plan.  That final plan will be completed in 2017.
Positive Trends in Graduation Continue
Maryland's graduation rate remains at an all-time high, bumping up again in 2015.
More Maryland students are graduating from high school than ever before.  Maryland's cohort graduation rate reached 86.39 percent in 2014–more than 4 percentage points higher than the 81.97 rate registered in 2010.  
At the same time, dropout rates have fallen to new lows. While gaps in graduation rates remain between student groups, the improvement in graduation has been across the board.  African-American, Asian, Hispanic, and White student subgroups have all experienced improvement in graduation.  
The graduation rate for special education students jumped 3 percentage points in just one year.
Maryland law was changed in 2015 to require that students be 17 years of age before being allowed to withdraw from school. The former law allowed for withdrawals at age 16.  The law is scheduled to change again in July 2017, raising the age of compulsory attendance to 18.
Expanding Career and Technology Education, CTE, Opportunities to Students 
Maryland has made the expansion of career oriented programs a priority.  For example:
Frederick and Washington County Public School Systems are piloting the new "Apprenticeship Maryland" program with the goal of expanding the model throughout the State.  The goal of the program is to prepare juniors and seniors to enter employment and further education in high-skill, high-growth sector Science, Technology, Engineering, and Mathematics, STEM, -related careers, such as healthcare, biotechnology, information technology, construction and design, banking and finance, and advanced manufacturing.
IBM; Johns Hopkins University; Kaiser Permanente; University of Maryland, Baltimore; Baltimore City Community College; and the State of Maryland are partnering to open two P-TECH schools in Baltimore City this school year. P-TECH schools create clear pathways from high school to college to career for young people from all academic backgrounds. Carver Vocational-Technical High School and Dunbar High School will be the first schools in the State to offer a six-year program to students that includes early college, CTE, and real world experience for students to prepare them for careers in the health and technology industries.  Graduates of Maryland's P-TECH–which stands for Pathways in Technology Early College High School–can earn both a high school diploma and an associate degree in a STEM field. More P-TECH schools re planned for Prince George's County, the Eastern Shore and Allegany County.
From FY2012-FY2016, Maryland invested $4.2 million dollars in the Project Lead The Way (PLTW) Biomedical Science CTE Program of Study.  The PLTW Biomedical Sciences program is one of Maryland's leading STEM-focused CTE programs of study and includes a sequence of courses that includes topics such as physiology, genetics, microbiology and public health.  The infusion of state funds increased the number of high schools offering the PLTW BMS across the state from 22 high schools and 181students in 2012 to 54 high schools and over 2800 students.  Maryland is home to more than 500 core bioscience companies, representing approximately 8% of the U.S. industry.  The PLTW BMS program is preparing students for careers in this field by giving them the tools they need to compete and win in a rapidly changing 21st century economy.    
New Charter School 
There is one new charter school scheduled to open this fall, bringing the total to 49 statewide.
This year's new school is Brehms Lane Elementary School in Baltimore City, an existing school converting to charter status.  It will be operated by Afya Baltimore, which operates two other charter schools in the city.
Charter schools are projected to enroll 20,700 students throughout the State in 2016-17.
Keeping Students Healthy
Maryland's Department of Health and Mental Hygiene (DHMH) is requiring new immunizations for children entering kindergarten/first/second grades and seventh/eighth/ninth grades. Specifically:
All students entering kindergarten, first and second grade must have had two varicella vaccinations before the first day of school.
All students entering seventh, eighth and ninth grades must have had one Tdap vaccination and one meningococcal, MCV4, vaccination before the first day of school.
For more information, see the DHMH immunization page
Get in some Tax Free Shopping.  Tax Free Shopping Week lasts through Saturday, August 20.  The annual break for shoppers
School Start Dates
Washington County kicks off the school year on Wednesday
Opening dates for the remaining systems:
August 22 – Anne Arundel, Grades 1-6 and 9; rest on August 23, and Frederick counties, along with the statewide SEED School
August 23 – Allegany, Caroline, Prince George's, and Talbot counties
August 24 – Baltimore, Dorchester, and St. Mary's counties
August 25 –  Harford County
August 29 – Baltimore City and Calvert, Carroll, Cecil, Charles, Garrett, Howard, Kent (grades K-6 and 9; remainder on August 30), Montgomery, Queen Anne's, grades K-9; remainder on August 30, Somerset, and Wicomico, grades 1-6 and 9; remainder on August 30, counties
September 6 – Worcester County
Please note that some individual schools and grades have different start dates.  Check with your local school system for more information.  
MSDE's round-up of school openings and closings can be found on the MSDE website