K9 Team finds suspect after foot pursuit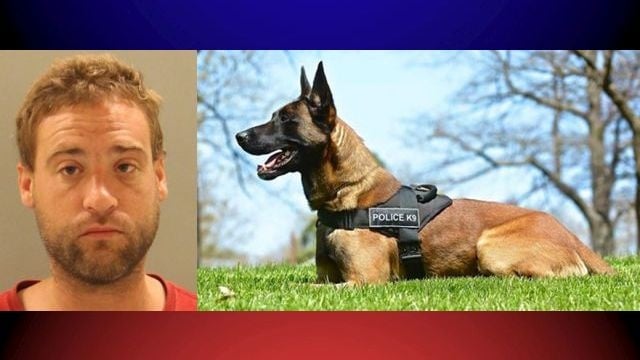 New Castle County Police say they have arrested a man after an altercation with police at William Penn Apartments.
On Thursday, around 5:15 PM, New Castle County Patrol "A-Squad" officers were reportedly dispatched to the unit block of Holland Circle in reference to a domestic incident.
According to the report, responding A-Squad officers recognized the address and knew the resident, 33-year-old Sydney Messick, who was apparently wanted for active warrants. Before they arrived, officers say they verified that the warrants, which were unrelated to this incident, were active. 
When they did arrive, officers reportedly saw Messick outside and confronted him about his wanted status, at which time he denied his identity and provided police with a fake name.
Knowing Messick's true identity, officers say they to place him under arrest, at which time a physical altercation began and Messick ran away. According to the report, officers followed Messick on foot and requested backup.
K9 Ace and his handler, Officer First Class Corey Tanyer, reportedly responded to the scene and helped in finding Messick. Officials say K9 Ace was able to successfully track and locate Messick, who was found hiding under nearby bushes. Messick then apparently surrendered to police and was subsequently arrested without further incident.  
No officers were reported as injured in this incident. According to the report, Messick was charged with felony resisting arrest, criminal impersonation and was processed on his outstanding warrants, and he was committed to Young Correctional Institution after failing to post $2,500 secured bail.