Dover family speaks out on rape through their personal story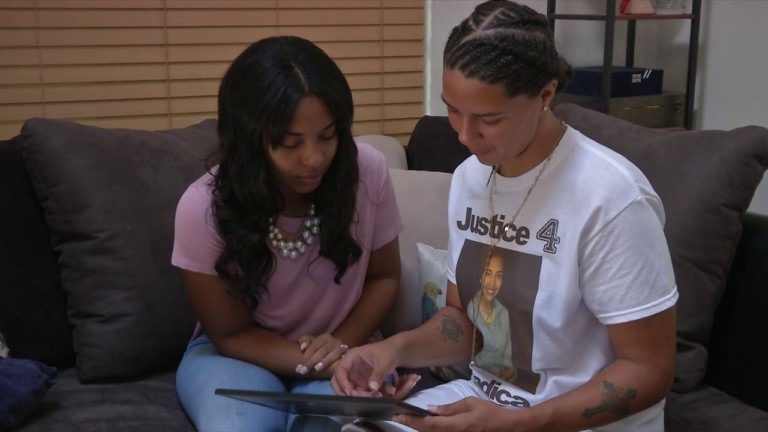 According to the latest statistics from the National Sexual Violence Resource Center, 1 in 4 girls in the U.S. will be sexually abused before they turn 18 years old. In addition to that,  8 out of 10 cases of rape, the victim knew the person who sexually assaulted them. These numbers hit home for one family in Dover. 47 ABC had the opportunity to sit down with the Tompkins and hear how they are raising awareness through their personal story.
"March 1st 2015, 9:03 in the morning. I'll never forget it," says Bobbie Tompkins from Dover.
Bobbie Tompkins remembers that date like it was yesterday, that's the day her then 12 year old daughter, Nadica Tompkins, told her she had been raped.
"When she said it, it exploded out of her mouth, you can hear the pressure behind holding something like that for a year," says Bobbie.
"Eventually you just go so numb and dead on the inside," says Nadica Tompkins, who is now 15 years old.
The perpetrator was Nadica's uncle, 36 year old Derek Basnight. Bobbie tells 47 ABC back in 2014, Nadica briefly spent a few weeks at her aunt's home to make it easier to get to and from school. According to court documents,  that's where he sexually assaulted her.
"To send my daughter to her aunt's house to say you have to ride the bus back and forth there is no second thought to that, there is no consideration needed, you're safe you know," says Bobbie.
Since then, Basnight has pleaded guilty to second degree rape and two counts of rape in the fourth degree. This past June he was sentenced to 20 years in prison. Nadica and her mother Bobbie are using their story to bring awareness about rape to victims and families who have gone through similar experiences.
"As much as it's kept quiet, as much as it is a secret, as much as people are so afraid to talk about this. Ask the questions that turn your stomach, the questions that give you goosebumps, ask them because avoiding does not help your child," says Bobbie.
The family is doing this through a Facebook group they created called SINC, which stands for Silence Is Not Consent that encourages open dialogue about victims of rape.
"I feel very honored when girls come to me and they tell me their story or they tell me I look up to you. Or things like that . It really means a lot," says Nadica.
The Tompkins are urging the rest of the community to join them in raising awareness and to report these crimes as they happen.
"Be the first, be the first in your city be the first in your town, be the first in your neighborhood, and allow the time to see how many people stand with you," says Bobbie.
Now Bobbie Tompkins did tell 47 ABC her family  receive resources such as counseling and support from a non-profit organization in Delaware called SOAR, which stands for Survivors of Abuse in Recovery. The Executive Director  from the organization tells us approximately 2,000 people use their services per year. According to their most recent report,  93% of people that request their  treatment services have been victims of a sexual crime before reaching the age of 18.