UPDATED: Law enforcement hosting National Night Out events across Delmarva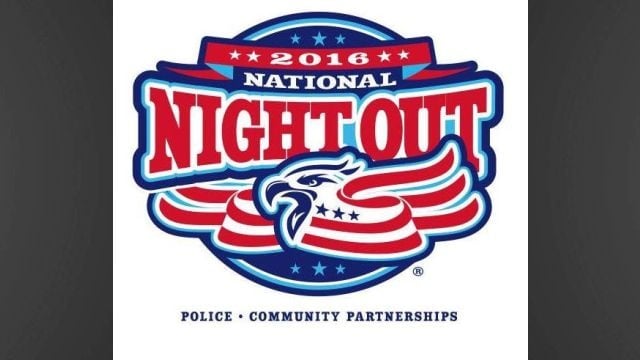 On Tuesday, August 2, law enforcement agencies from around Delmarva will be participating in National Night Out. The evening is designed to grow support in neighborhoods, explain crime prevention, and build relations between the community and police. This is apparently the 33rd year for the national event, that more than 15,000 communities participating.
DELAWARE:
Seaford, Del.- The 11th Annual Blades Night Out Celebration will be from 6-8 PM at the Blades Public Park on 100 East Seventh Street. Officials ask that if you or your business would like to make a monetary donation and/or sponsor this event, make checks payable to Town of Blades, indicating BNO donation on the check. Blades Police Department would like to work with local and surrounding area citizens and businesses to make the community safer.
Milford, Del.- Once again the Milford Police Department's Community Policing Unit is sponsoring the 22nd annual "Milford's Night Out". This years event will feature the "The Funsters" band, playing from 6:00 pm to 8:00 pm. The event will be held at Bicentennial Park in Downtown Milford from 6:00 pm to 8:00 pm.  There will be free food, drinks, and emergency vehicles on display.  This years participants include Carlisle Fire Company, Houston VFC, Memorial VFC, Delaware Natural Resources Police, Bayhealth, and Sussex County EOC just to name a few. This years event is made possible by Grotto Pizza, Allen Harim,  Walmart, and Pepsi.  The purpose of this event is to heighten awareness of our services and crime prevention, but more importantly to continue to build a strong relationship with the Milford Community
Dover, Del.- August 9th- The Dover Police Department will once again bring the National Night Out to the Target parking lot on Tuesday, August 9th from 6-8pm.  The event brings the Dover Police Department, along with several emergency agencies and military personnel to one place where the public can bring their families to meet and greet local heroes and see the equipment used in their jobs while forming a positive relationship with the community.  In addition to appearances and demonstrations by these agencies, Night Out will feature fun activities for all ages along with food and beverages for all while supplies last.  The Dover Police Department and Target Department Store look forward to continuing the National Night Out tradition and their relationship to improve the Dover community through events such as this and the Holiday Heroes Christmas program.  Kids can try on gear that officers wear, sit on a police motorcycle, put out a  simulated fire with the Dover Fire Department, and much more.  WSFS and the Dover Police Department will join together to bring a "shred event" to the National Night Out for the 2nd consecutive year.  The public is invited to bring personal documents to be shredded beginning at 5pm and ending at 8pm that day.  Dover Police will be on hand to distribute ID theft information and prevention information. There will also be K9 demonstrations at 6:30PM and 7:30PM, as well as a Dover Police motorcycle demonstration at 7:00PM.
Smyrna, Del.- August 11th– The SPD will again be hosting a national night out against crime on August 11th.  The event will be held on Market Street Plaza.  The focus of the Night Out event is to build community partnerships between the SPD and the citizens we serve. They encourage local business owners, clubs, and organizations to come out and partner with the Smyrna Police Department in meeting and greeting the community and also to showcase their organization. This event is completely free to the public.  They would like to specifically thank Food Lion of Smyrna, Herrs Foods, Pepsi Co, CBM Productions and the Wilmington Blue Rocks.  All of these organizations donated items and services to our successful Night Out event last year.  If you are interested in having your organization represented or making a donation of money or services, we ask that you contact Detective Michael Carrigan.  He may be reached at the SPD on our non-emergency line of 302-653-9217, or via email at Michael.Carrigan@cj.state.de.us
MARYLAND:
Snow Hill, Md.- The Snow Hill Police Department will host their National Night Out event at Byrd Park Pavillions from 5-8 PM. They will have food, fun, games and music. They will also have a fire engine on display, live performance by DJ Wiz, community health and information displays, water games, kids games, and face painting. K-9s will be there too for a live demo!
Berlin, Md.- The Berlin Police Department will be hosting its annual National Night Out from 4-7 PM at Henry Park, 117 Flower Street, in Berlin. The Police Department, along with the assistance of local churches, community groups, and organizations will join together to heighten drug awareness and crime prevention. As always, there will be free food, music, numerous displays and educational booths, as well as medical screenings, and lot of stuff for the kids. Any questions, call 410-641-1333.
Ocean City, Md.- The Ocean City Police Department will join several neighborhoods to celebrate National Night Out, a nationwide event created to promote positive relationships between neighbors and their local police officers.Community members in the Caine Woods,Fiesta Park (141st Street),  Bayshore Drive, Gullway Villas (near 2628 Lark Lane),  and Montego Bay, end of Harbor Drive,  neighborhoods will each host a laid back, BBQ-style event to celebrate National Night Out. Dozens of citizens, community members and police officers take this opportunity to build relationships with neighbors and celebrate the safe community that we are fortunate to have. All events will be from 6-8 PM.
Fruitland, Md.- The City of Fruitland will be hosting their event from 5-8 PM. The event will be at the pavilion located on S. Brown Street. Along with the traditional outside lights and front porch vigils, most cities and towns celebrate National Night Out with a variety of special city wide and neighborhood events. The city of Fruitland will once again be hosting their community cookout with food, games and prizes. National Project Coordinator, Matt Peskin said, "This is a night for America to stand together and promote awareness, safety, and neighborhood unity. National Night Out showcases the vital importance of police-community partnerships and citizen involvement in our fight for a safer nation. On NNO, we invite neighborhoods nationwide to join us and "give crime a going away party."
Fort Meade, Md.- This event will be from 6-9 PM at McGlachlin Parade Field. Sponsored by Corvias Military Housing and organized by Fort Meade Police and Fire emergency personnel, first responders from several other communities participate to include Anne Arundel County Police, State of Maryland and Maryland Transportation Police. In addition, there will be a police helicopter on display and demonstrations from K-9 units and SWAT teams from the Military District of Washington and participation from more than ten other police and fire departments. Other fun activities include a zip line, boot camp challenge, pony rides and much more. Fort Meade's National Night Out is an event that brings our entire community together and highlights police and community partnerships designed to send a message to the criminals that our neighborhoods are organized and fighting back.
Salisbury, Md.- This is a free event taking place in Salisbury City Park, by the bandstand, from 5-8PM. You will have a chance to see Fire and Police vehicles, and meet Firefighters and Police Officers. There will also be music, games, free food, tons of giveaways (including over 40 bicycles!) and so much more! Over 50 business and organizations are participating!  This is an event you won't want to miss! If you're interested in setting up a table, please contact cchestnutt@salisburypd.com for all the details!
Salisbury, Md.- Also at the Salisbury City Park event, the Salisbury Maryland Kennel Club will be hosting activities. Bring your canine companion to theit K-9 Karnival where they will have games, contests, and dog demonstrations emphasizing police training and how to safely greet a dog.
Easton, Md.-  Easton Police Department, in partnership with The Maryland Department of Public Safety and Correctional Services, The Town of Easton Parks & Recreation, The Talbot County Department of Parks & Recreation, Talbot County Department of Social Services, and Talbot Partnership will be hosting its annual National Night Out event at Moton Park from 5-8pm. This is an opportunity for the entire community to come together as one voice against crime in our neighborhoods. This year marks the ten year anniversary of the Easton National Night Out Event. There will be free swimming provided by Talbot County Parks and Recreation, and free food provided by various donors, to include Allen-Harim Foods, BJ's Wholesale Club, Target, Harris Teeter, and The Easton Volunteer Fire Department. Other activities include demonstrations by the Easton Volunteer Fire Department, Phillips Wharf, the Talbot County D.A.R.E. Program, and much more! At 7:00 pm, several guest speakers will address attendees and speak about a variety of community issues. At 8pm, the evening conclude with a group walk around the neighborhood to let criminals know we are "taking back the streets". Those participating in the group walk will be entered into a raffle to win a free season membership to the George Murphy Community Pool.