UPDATE: Thousands expected at 2016 Berlin Bathtub Races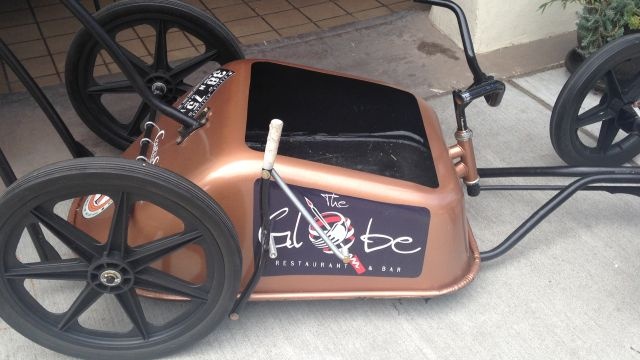 Burly Oak Brewery has bragging rights for the next year, but leading up to the event, they weren't so confident.  Bath tubs speeding down Main Street in Berlin can be described many ways, but Mayor Gee Williams sums it up nicely saying "it's really an artistic event with a twist of competition."
With a twist of competition, comes a full glass of confidence from first year teams like alarm engineering.  Lillian Overby who modeled the cart for 47ABC before the race says "we're going to leave them all in the dust". 
The confidence wasn't so exuberant for seasoned teams like Burly Oak (the eventual winner and Seaside Plumbing.  Bryan Bushmiller is the owner of Burly Oak and he says they have been dead last every time in years past, but they're aiming for most fun.  Joshua Martin of Seaside plumbing says they worked a lot harder for the 2016 race given their poor performance in 2015.  However that hard work only pays off with strategy.  Martin says "I drank a lot of red bull" adding that he "flexed in the mirror several times this morning." So obviously, that team was ready.  Burly Oak took a more practical approach, tediously studying hours of film, and watching bobsledding videos was what the eventual champions did to prepare n 2016.
However when the horn sounded, it wasn't as important about who won (don't tell the competitors that) but Mayor Williams says "it's like a family reunion.  The more things we share as a family, the more things we'll have in common."
—
'Bathtub' and 'Berlin' are two words that generally don't go together, unless you're from Berlin.
Larnet St. Amant, executive director of the Berlin Chamber of Commerce, says it takes all year to set up for the event. According to Amant, the 27th annual race is expected to draw well over a thousand attendees on Friday night.
As of 1 p.m., there were 15 teams signed up.
Martha Schworn, an Ocean Pines residents, will be racing for the first-time on Friday night and representing the Globe Restaurant in Berlin. Her ride of choice is cooper wheel barrel. Her partner is her husband.
"Watch out, we're looking good," she says. "My husband's pushing and he's a quick fast runner and strong and he's just going to push me to the finish line."
St. Amant explains the race  operates in separate, head to head matchups, so two teams at a time fly down Main Street from Pitts Street to the Atlantic Hotel. The loser is eliminated, the winner advances.
"You might to have run three or four times before it's over, so in the heat and stuff…it can be very trying," she explains. "You have to have a lot of stamina."
Georgetown, Delaware resident Ryan Showell is the returning champ. His team won last year, and he tells 47ABC he is determined to hold onto this trophy and year-long bragging rights.
"We took a three wheel bike apart and just put it back together and a piece on there and put the handles together," says Showell. "This [cart] is actually PVC so it got a little flex in it, so it gives me a little more motivation."
Who knows motivation better than an under-dog? Brian Brushmiller, a Berlin resident, says his teams have come in last place every year.
"This year we are coming with a second racer that's built to win, so this will be our first year where we're entering two bathtub racers," he says.
Whether you're a seasoned pro or first-timer, racers we spoke to say the important thing is to have fun.
"If we don't win, we'll just cheer on whoever's winning. It's good," says Schworn.
Friday's winners will also win a free banner ad on the Chamber's website.
The race starts at 6 p.m. and is expected to last for about two hours.