Staying cool at the Delaware State Fair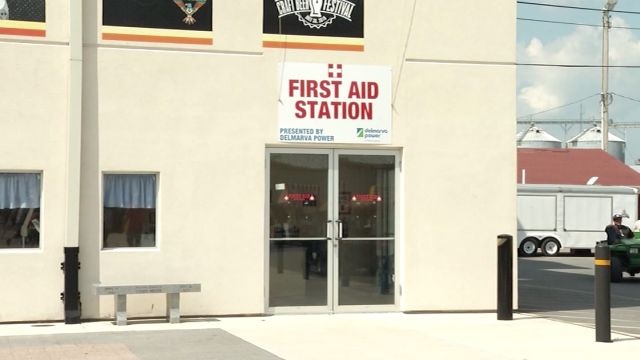 With hot temperatures expected in Harrington, Del this week and into the weekend, if you're planning a trip to the Delaware State Fair staying cool is something you'll need to keep in mind.
The easiest way to do that, stay hydrated.
"Water, plenty of water," said Jill Tapman, a nurse at the Delaware State Fair's first aid station. "You can drink other things like lemonade and stuff, but I'd stay away from the caffeine because caffeine drinks can also dehydrate you."
According to Tatman, you'll notice yourself getting dehydrated when your body starts sweating profusely and you begin to feel light headed.
If your body begins to have the chills and stops sweating all together, that's a signal you need to get water immediately and might even need to stop by the first aid station at the M and T Bank grandstand.
Tatman adds that in this heat you'll need to drink about twice the amount of water you usually do.
Hydration isn't the only thing you'll need to keep in mind though.
"Sunscreen, if you're going to be out to be out in the sun, a hat, light clothing that might cover up, like a long sleeve shirt, but a light color," Tatman said.
On top of sunscreen, Tatman also recommends taking breaks from the hot sun.
Lucky for those at the fair there's plenty of cool exhibits to check out with the air conditioning on full blast.
The last tip, enjoy your fried fair food just don't have too much, "There's a lot of sodium inside the food so that's going to dehydrate you more quickly so make sure you're stopping frequently and partaking of the cool beverages," said Kim Doherty, an expert fair goer.
Delaware state fair officials also tell 47 ABC that people will be allowed to bring in bottles of water, as long as they're not made of glass.