Md. crab bake draws politicians and crowds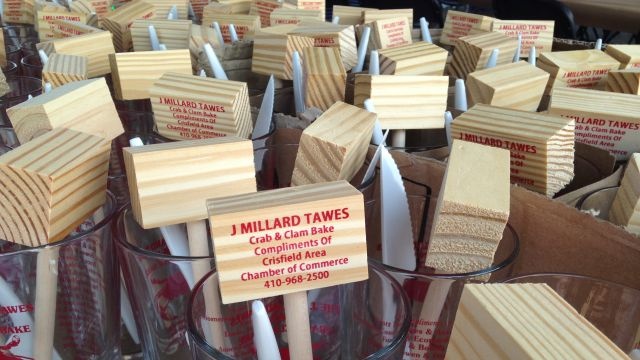 The 40th Annual Tawes Crab and Clam Bake returned to Crisfield on Wednesday, drawing crowds of residents, visitors, and politicians.
Folks piled into the Somers Cove Marina for an all-you-can-eat seafood feast. Based on years past, the event can draw up to 3,500 people. Every year, there's a mix of longtime Tawes veterans and newcomers.
One Annapolis family we spoke to say, they're spending a lot of cruising the bay this summer and just sailed from Virginia Beach with their son.
"I think we're ready for some crabs. The little guy [son] loves some crabs, so we'll be tearing into those and hopefully he gets his fill," says Paul Royston. "We got the music going…lot of friendly people. We've been talking to a lot of local folks and everybody's been great."
This well-known seafood festival has always packed a strong political flavor. Many republican lawmakers, including Governor Larry Hogan, chose this annual fest over the Republican National Convention ("RNC") in Cleveland.
"Everybody has an option if they want to go, but I thought it was more important to stay here with Marylanders," explains Governor Hogan. "People in Maryland elected me to be governor. I don't have any obligation to play 'politician' in Cleveland."
This was a sentiment shared by Maryland District 7 Delegate Kathy Szeliga. The republican delegate is running for the U.S. Senate seat soon to be vacated by Senator Barbara Mikulski.
"Delegates in Cleveland already know me," says Delegate Szeliga. "There's no voters in Cleveland. They're here."
The republican U.S. senate nominee says if elected in November, one of her main priorities is economic growth. Delegate Szeliga tells 47ABC, she's in support of less regulation on small businesses.
In terms of Donald Trump clinching the GOP nomination in Cleveland on Tuesday night, Delegate Szeliga says "Well, I've said since November when I got into the U.S. Senate race that I would support our party's nominee and I'm a woman of my word, so I am supporting our party's nominee."
She will face Representative Chris Van Hollen in November. He tells 47ABC, he will be attending the Democratic National Convention in Philadelphia.
Representative Van Hollen says he is in support of presidential candidate Hillary Clinton, claiming Trump would be a "very big risk" for the U.S.
Van Hollen also says his priority if elected Senator would be job growth, which he says starts with taking advantage of strengths in the state.
"Every part of our state has its own strengths, I mean…here on the eastern shore, as you can see, not just the seafood industry and agriculture but we want to advance more manufacturing," he explains. "You have wallops nearby in Virginia which is a great center for NASA."
When asked, Governor Hogan told 47ABC he had no comment on Trump.