Severe weather moving across Delmarva peninsula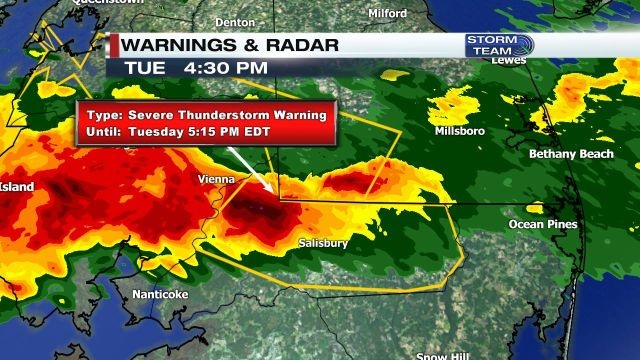 THE NATIONAL WEATHER SERVICE IN WAKEFIELD HAS ISSUED A SEVERE THUNDERSTORM WARNING FOR, WORCESTER COUNTY IN SOUTHEASTERN MARYLAND, NORTHEASTERN SOMERSET COUNTY IN SOUTHEASTERN MARYLAND, SOUTHEASTERN WICOMICO COUNTY IN SOUTHEASTERN MARYLAND, UNTIL 615 PM EDT AT 515 PM EDT,A SEVERE THUNDERSTORM WAS LOCATED NEAR FRUITLAND,  MOVING EAST AT 40 MPH.
HAZARD,60 MPH WIND GUSTS AND QUARTER SIZE HAIL.
SOURCE,RADAR INDICATED.
IMPACT,HAIL DAMAGE TO VEHICLES IS EXPECTED. EXPECT WIND DAMAGE  TO ROOFS,SIDING,AND TREES.
THIS SEVERE THUNDERSTORM WILL BE NEAR,  SNOW HILL AROUND 530 PM EDT.
NEWARK AROUND 535 PM EDT.
OTHER LOCATIONS IMPACTED BY THIS SEVERE THUNDERSTORM INCLUDE OCEAN  CITY MUNICIPALITY,CHESAPEAKE HEIGHTS,MOUNT WESLEY,WHITESBURG,  STOCKTON,LAKEWOOD,SHAD POINT,BOXIRON,MANOKIN AND CEDARTOWN.
PRECAUTIONARY/PREPAREDNESS ACTIONS, FOR YOUR PROTECTION MOVE TO AN INTERIOR ROOM ON THE LOWEST FLOOR OF A  BUILDING.
THIS THUNDERSTORM IS CAPABLE OF PRODUCING ALL TYPES OF SEVERE WEATHER  INCLUDING EXTREMELY LARGE HAIL,DESTRUCTIVE STRAIGHT LINE WINDS AND  TORNADOES. MOVE QUICKLY TO A SAFE SHELTER SUCH AS AN INTERIOR ROOM,A  BATHROOM,CLOSET OR BASEMENT.
PLEASE SEND YOUR REPORTS OF HAIL AND OR WIND DAMAGE,INCLUDING  TREES OR LARGE LIMBS DOWNED,BY CALLING NOAA'S NATIONAL WEATHER  SERVICE IN WAKEFIELD AT 7 5 7,8 9 9,2 4 1 5.
For the latest, visit the 47ABC Weather page, or Facebook page.