Kashi granola bars and loose granola recalled due to potential health risks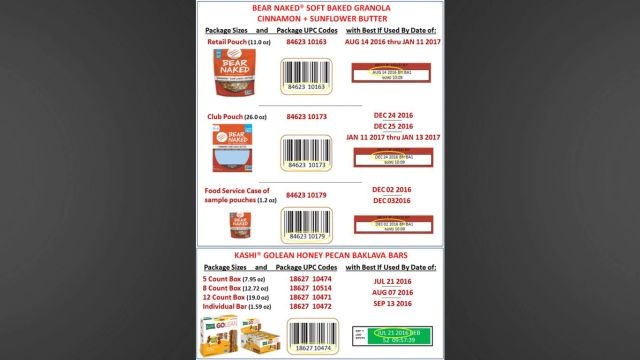 Both Kashi granola bars, and Bear Naked granola are the latest products to be voluntarily recalled because they may have been contaminated with listeria.
Giant Foods says, they have removed several products from their shelves, because they are potentially contaminated with Listeria monocytogenes.
The following product is included in this recall:
• Kashi GOLEAN Honey Pecan Baklava Bars, 19 oz., UPC 1862710471 with Better if Used Before dates of Jul2116; Aug0716 & Sep1316
• Bear Naked Soft Baked Granola – Cinnamon/Sunflower Butter, 11 oz., UPC 88462310163 with Better if Used Before dates of JAN 10 2017 & JAN 11 2017
Giant says they haven't received any reports of illness at this time. According to officials, Listeria is a common organism found in nature, but that eating food contaminated with Listeria monocytogenes can cause listeriosis, an uncommon but potentially fatal disease.
Healthy people rarely contract listeriosis, but officials say, listeriosis can cause high fever, severe headache, neck stiffness and nausea, and fatal infections in those with weakened immune systems, such as infants, the elderly and persons with HIV infection or undergoing chemotherapy.
Those who have purchased the granola bar products listed above, should throw away any unused portions, and bring their purchase receipt to Giant for a full refund.
For additional information on the recall customers may call Kashi at 1-877-747-2467.