Heavy rains, brings flooding to southern Delmarva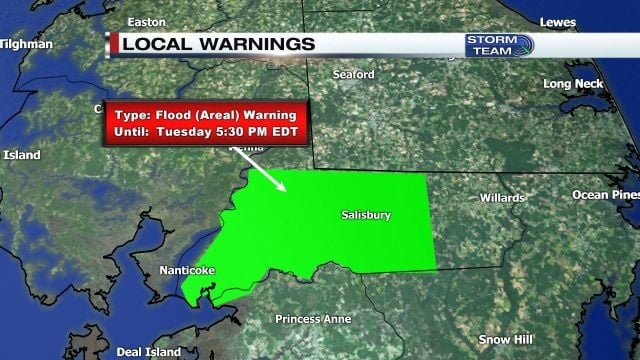 After a record amount of rain fall in Salisbury, The National Weather Service in Wakefield has issued a flood warning for Wicomico County until 5:30 PM.
Thunderstorms were reported around 11:20 AM on Tuesday, with heavy rain over Wicomico County that will cause flooding. Doppler radar estimates rainfall amounts of 3 to 5 inches have already fallen, especially west of Salisbury.
While the heaviest rain has ended, scattered showers and thunderstorms are expected through this evening as a cold front slowly pushes across the region. Additional rainfall amounts are forecast to be less than one half inch across the warned area.
The storms apparently brought record amounts of rainfall, about three inches for June 28, to the Salisbury Airport.
Some locations that will experience flooding include, Salisbury, Fruitland, Salisbury University, Delmar, Hebron, Sharptown, Vienna, Parsonsburg, Pittsville, Mardela Springs, Green Hill, Chesapeake Heights, Trinity, Catchpenny, Lakewood, Shad Point, Royal oak, Salisbury-Wicomico, Eden, and Allen.
Precautionary/preparedness actions, excessive runoff from heavy rainfall will cause flooding of small creeks and streams, country roads, farmland, and other low lying spots.
The National Weather Service is reminding drivers to "turn around, don't drown" when encountering flooded roads. Most flood deaths occur in vehicles. A flood warning means that flooding is imminent or occurring. All interested parties should take necessary precautions immediately.
Officials in Wicomico County says the excessive rain has flooded many streets in the area. They say Civic Avenue is flooded and closed, Booth Street, and Mineloa Area are flooded, and Athol Road is flooded with part of the road washed away. Fitzwater Street at Main Street has been closed for flooding. East Main Street, at Route 13 near Snow Hill Road, is also close due to high water.
High water signs are in some places. Vehicles are being disabled.
Over the course of the afternoon, posted videos on their Facebook page of the flooding, including on Fitzwater Street, East Main Street at Route 13, Delaware Avenue and Tangier, and Route 13 at Pine Bluff.
Salisbury Police says that they have responded to one weather related crash in the city. No details have been released at this time, though. Salisbury City Mayor Jake Day is urging all citizens who can stay off the roads to do so until conditions improve.
The City will be actively monitoring and managing all storm effects throughout the day. To report issues with flooding, please contact the SPD at 410-548-3165. For emergencies, dial 911.