UPDATE: Hogan signs 144 bills, including 'Noah's Law'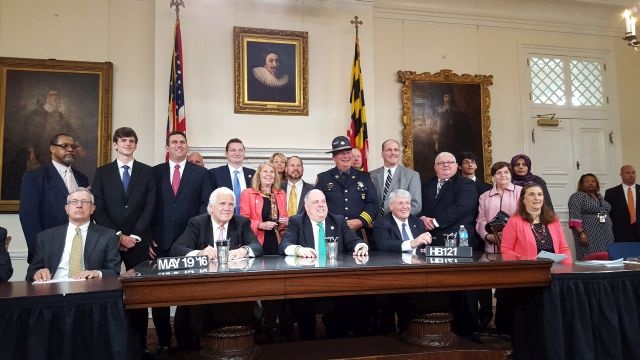 (AP) – Gov. Larry Hogan has signed 144 bills into law, including an expansion of mandatory use of breath-testing ignition devices and criminal justice reform.
Hogan signed the bills into law Thursday at a ceremony at the State House.
    
The signed bills include Noah's Law, which requires breath-testing ignition devices for anyone convicted of drunken driving. It honors Montgomery County police Officer Noah Leotta, who was struck and killed by a drunk driver who pleaded guilty this week to vehicular manslaughter.
    
The Justice Reinvestment Act includes policy changes for parole, victim restitution, record expungement and focuses on treatment for nonviolent drug offenders over prison.
Another bill, sponsored by Delegate Mary Beth Carozza, looks to streamline the process for punishing anyone who calls in false bomb threats. House bill 121 will allow the prosecution of false threats within the jurisdiction threatened, regardless of where the call originated. For example, if a caller in Delaware calls in a bomb threat hoax for a Worcester County school then Worcester County prosecutors could handle the case.
There are about 100 bills awaiting the governor's action. Hogan must decide this month whether the veto those bills or let them take effect without his signature.