On the Job: Fishing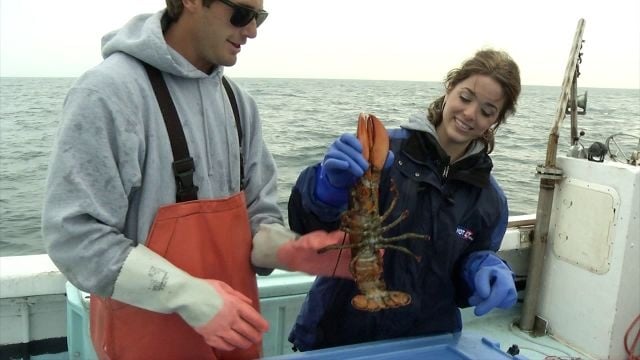 Getting out on the water on a boat can be deeply relaxing, taking in the salty sea air and cruising along by motor or under sail. But for others, they see it as a time to work! Just like Captian Sonny Gwin. This week "On the Job" 47 ABC heads out to sea with Captain Gwin and his fisherman.
Call time to board the boat was 5 AM! Captain Gwin says this allows him time to cruise out to his traps, called rigs, that are set out in various locations in the ocean. Gwin says he has about 20 of them.
After about 3 hours, we finally reached our first rig, which is marked by a boey, and it was time to start pulling traps up! This was amazing, but you had to act fast because there are about 15 cages to each rig. And sometimes, a few crabs get tossed on the floor.
After pulling out the sea bass, lobsters and even a few crabs from the cages, you have to check their size to make sure their legal to pull from the ocean. If they're not, you toss them back. Bass must be at least 14 inches in length and the lobsters have to be 3 1/4th inches from its eyes to its back. As far as the crabs, you only take their claws off and throw their body back in the ocean.
When handling the sea bass, you must be careful because their gills and fins are like knives and can cut you if you grab them the wrong way. After you gather all your bass into a bucket you have to bring it over to a large cooler to ensure they stay fresh throughout the trip.
After a few rounds of pulling up rigs, I was pretty soaked so sonny gave me protective overalls and boots to keep me dry. Next up, lobster banding! After you catch them you have to rubber band their claws so they can't bite you. After their all banded up you stick them right in the cooler. And after pulling up about 5 rigs, my job was complete!
Next week 47 ABC heads to the Ocean City Golf Club to help out on the golf course.