Local mother explains the importance of organ donors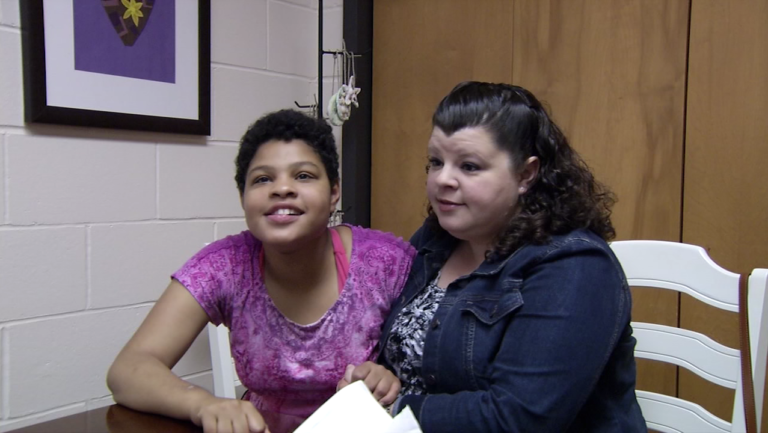 Rebecca Warner shared the voicemail that changed her life with 47 ABC. It says, "I really do want to talk to you so as soon as you get this message. I really want you to call me back as soon as possible."
The voicemail was from a doctor explaining that Rebecca's then 15-year-old daughter Kayla, who has cerebral palsy and severe developmental delays, had end stage kidney disease caused by undiagnosed Alport Sydrome.
Warner says, "It was awful. It was scary. I kept having dreams about her dying."
There's no hospital within three hours of the Warner's home that does dialysis for children, so Rebecca got trained to do it.
She goes on, "Our house looked like a hospital. I slept on the floor beside her bed the whole time during the dialysis. She mentally doesn't understand not to get up and walk away while she's attached to the machines."
She doesn't like to take credit, but Rebecca is a super mom. 15 months later, the hospital told her they may have found a match for Kayla.
Rebecca replies, "On the way home I saw a double rainbow and I just knew that she was going to get that kidney."
Kayla got the kidney. However, it was a bitter sweet. Another mother lost her young son and Kayla got his kidney. Rebecca wrote that mom a letter.
She continues, "That was the hardest day that mother will ever have to face. I want her to know that we appreciate it every single day."
Months later, the mother wrote back. Her son's name was Justin, the same name as Rebecca's oldest son. That mother also shared that her son lived a full life. Now he's allowing Kayla to do the same with his kidney.
Kayla explained to 47 ABC that she likes book and boys. Rebecca says this experience has opened her eyes to importance of organ donors and wants everyone to at least consider it. It could save a life like Kayla's.
Rebecca goes on, "Justin will always be in my heart and hero. We think about him and his mother every single day."
Team Kayla is accepting donations for the Salisbury Kidney Walk at the Chincoteague Diner, Cedar Chapel Special School in Snow Hill, and online. Click here for see her team's page and register for the walk.