Delaware National Guard Headquarters dedicated to Beau Biden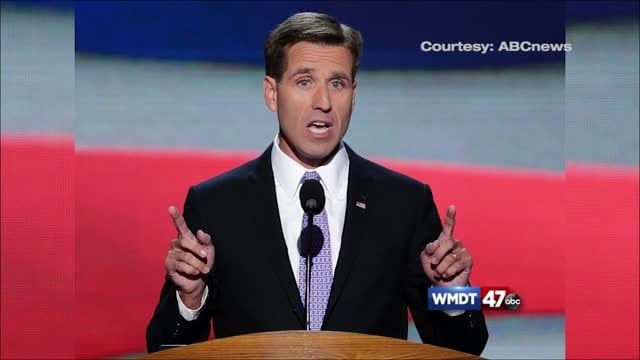 After a ceremony held Monday, the Delaware National Guard headquarters is now officially named the "Major Joseph R. 'Beau' Biden III National Guard and Reserve Center.  The event was held on Memorial day, a day to honor those who gave their life for their country.  Monday was also the 1 year anniversary of Beau Biden's death, a man who's actions showed he was willing to give his life for his country.  Major General Frank Vavala of the Delaware National Guard says Beau was incredible. "He joined the military at 35, he didn't need to do that, he wanted to serve his country, he wanted to serve his state."
Beau did serve his state.  Close family and friends of Beau says he always wanted what was best for the people he served, which may explain why he decided to forego the opportunity to be appointed Attorney General, opting instead for an election.  An election he won.  The state he served gave back to the Biden family on Monday, a gift that will last much longer than Beau's short time at the National Guard.  Vavala says of the building dedication "we want this building to have character and reflect a man of character."  Character, being one of many to describe Beau.  Colonel Ed Brandt, who was a chaplain deployed with beau in the 261st theater tactical signal brigade, calls Beau "Authentic, genuine, caring, loving, compassionate, patient, understanding, forgiving, and redemptive" to name a few. 
And those qualities are why Delaware Governor Jack Markell says the Citizens of his state embraced Beau so much, that he was family. Addressing the Biden family directly,  Markell said " he was beloved not only by the Biden's, but also by your larger Delaware family.  And yes he was beloved for all he did, but more importantly he was beloved for who he was."
When Beau's father took the stage, the Vice President did so with a heavy heart carrying a strong message. "It takes time, but we've decided the best way forward is to focus on the things that beau would have been doing if he had a few more years." The Vice President said, speaking for the family.  Beau's father says he would still be serving the people he loved, and sometimes the people he didn't even know. The Vice President shared a story about a time he called a woman who wasn't feeling well. He says Beau asked him "dad, why did you pick the phone and call that guys mother?" Biden responded "because he said she wasn't feeling well." The Vice President then said tongue in cheek  "Well hell I found out beau didn't just pick up the phone he went and saw the guys mother".
The Vice President gathered himself after a chuckle and addressed who he calls Beau's brothers and sisters in the National Guard.  Saying that his son loved serving with them and touched on the special bond they have not only with each other, but the community.  "There's something about serving your country while you still live in the community that makes the guard so special" Biden said to the crowd, "because the community rallies around the guard as well." 
Now that Beau's name graces the building that he served in, his father hopes it can inspire future community and guard members for generations to come. The Vice President concluded "Our prayer, the Biden family prayer is, [that] they'll see beau's name and look to his example of how to live life. A life of purpose, service, and inspiration."