The Latest: Del. Szeliga and Rep. Van Hollen win Md. Senate primary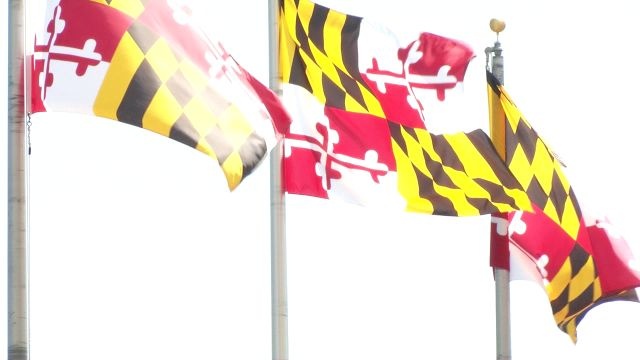 (AP) – The Latest on Maryland's primary election (all times local):
11:55 p.m.
    
Former Baltimore mayor Sheila Dixon lost the Democratic nomination for mayor to three-term state Sen. Catherine Pugh, but she says she's "not through yet."
    
Dixon came in second among 11 candidates in Tuesday's primary.
    
Dixon announced her bid for mayor in July, shortly after the death of Freddie Gray inspired protests and rioting in the streets of Baltimore. She was elected mayor in 2007 but resigned in 2010 after she was convicted of embezzlement stemming from her use of gift cards meant for underprivileged children.
    
In her speech, Dixon told supporters that "it's time for us to open up a new chapter in this city." She also stressed the need to "continue to build on what this campaign stood for: love of the people of this city."
    
___
11:45 p.m.
    
Catherine Pugh, a three-term state senator who also runs a public relations firm, has won the Democratic nomination in Baltimore's mayoral race.
    
Pugh spoke Tuesday night to supporters at the Baltimore Harbor Hotel downtown, flanked by elected officials including Rep. Elijah Cummings and state Del. Jill Carter.
    
She says her victory "begins what I consider a milestone, but more importantly, a direction for our city." She is widely expected to win the general election in this Democratic stronghold.
    
Pugh faced off against 11 other Democratic candidates, including former mayor Sheila Dixon, who came in second. Pugh says, "Everything I've done has prepared me for this moment, to lead this city in the direction it should go."
— 
11:05 p.m.
    
Catherine Pugh, a state senator and owner of a public relations firm, has won the Democratic primary for mayor of Baltimore.
    
The 65-year-old lawmaker defeated 11 other candidates, including former Mayor Sheila Dixon. She is expected to win the general election in Baltimore, a Democratic stronghold.
    
Pugh is a three-term state senator who also served on the Baltimore City Council for five years before she was appointed to the Maryland House of Delegates.
    
She secured numerous endorsements in the months and weeks leading up to the primary. That included an endorsement from Councilman Nick Mosby, who waged an unsuccessful campaign for mayor that ended the day before early voting began April 14.
    
___
11 p.m.
    
State Sen. Jamie Raskin has won the Democratic primary for Maryland's 8th Congressional District.
    
Raskin prevailed Tuesday in what has been the most expensive House primary race this cycle. Candidate David Trone personally spent more than $12 million on the contest. That's the most anyone has ever spent on a self-funded House campaign. Trone owns 150 Total Wine and More stores in 21 states.
    
Former local television news anchor Kathleen Matthews, wife of "Hardball" host Chris Matthews, also was in the race.
    
All three have liberal social views.
    
The district spreads from wealthy neighborhoods bordering the nation's capital up to the Pennsylvania state line.
    
___
    
11 p.m.
    
Former Lt. Gov. Anthony Brown has won the race for the Democratic nomination to run for Rep. Donna Edwards' seat in Maryland's 4th Congressional District.
    
Former Prince George's County State's Attorney Glenn Ivey and Delegate Joseline Pena-Melnyk also had sought the nomination in Tuesday's primary in Maryland's Washington suburbs.
    
Edwards has held the seat since 2008 but decided to seek the Democratic nomination this year for the state's open U.S. Senate seat.
    
Brown loaned hundreds of thousands of dollars to his bid for Congress as he attempted to bounce back after losing the governor's race in 2014 to Republican Larry Hogan.
    
___
    
10:50 p.m.
    
State Sen. Catherine Pugh is leading a field of a dozen candidates for the Democratic nomination for mayor in Baltimore, ahead of former Mayor Sheila Dixon by 3 percentage points.
    
At 10:45 p.m. Tuesday, Pugh had 37 percent of the vote to 34 percent for Dixon, with 87 percent of precincts in the city reporting.
    
Pugh is seeking to lead the troubled city a year after the unrest that followed the death of Freddie Gray in Baltimore police custody. The 65-year-old Pugh is a three-term state senator, and she has served in the House of Delegates and on the City Council.
    
Baltimore is overwhelmingly Democratic, so the winner of the primary is expected to win the general election.
    
___
10:15 p.m.
    
Delegate Kathy Szeliga has won the Republican primary for Maryland's open U.S. Senate seat.
    
Szeliga won in a large GOP field on Tuesday that included Richard Douglas, a former Defense Department appointee in the George W. Bush administration, and Chrys Kefalas. Early returns showed her with about 38 percent of the vote, leading her closest opponent by more than 20 percentage points.
    
Szeliga represents parts of Baltimore and Harford counties in the state House of Delegates.
    
Republicans are hoping Gov. Larry Hogan's popularity will help propel them to victory in November in a state where they are outnumbered by Democrats 2-1.
    
___
9:50 p.m.
    
Rep. Chris Van Hollen has won the Democratic nomination for U.S. Senate in Maryland. Del. Kathy Szeliga has won the Republican nomination for open US Senate seat in Maryland.
    
Van Hollen won Tuesday night after a long and heated primary against Rep. Donna Edwards for the seat opening due to Sen. Barbara Mikulski's retirement at the end of her term.
    
The campaign became a polarizing battle over race, gender and personality as the two candidates sought to succeed Mikulski, the nation's longest-serving female senator. Both candidates represent House districts that include the suburbs of the nation's capital.
    
Van Hollen ran on his record as a pragmatic progressive who is able to reach across the political aisle to get things done. Edwards campaigned as a candidate more committed to holding liberal principals without settling for political deals.
    
___
8 p.m.
    
Donald Trump has won the Republican presidential primaries in Pennsylvania, Connecticut and Maryland, giving the billionaire businessman a boost in a critical night as he seeks to shut out his opponents.
    
Hillary Clinton has also won the Democratic primary in Maryland.
    
Clinton entered Tuesday's five primaries having already accumulated 82 percent of the delegates needed to win her party's nomination. While she can't win enough delegates to officially knock Bernie Sanders out of the race this week, she can make it virtually impossible for him to catch up to her in the remaining contests.
    
Trump's win Tuesday lends a boost to his embattled campaign as it faces a growing challenge from rivals Ted Cruz and John Kasich, who announced this week that they are teaming up to thwart his rise.
    
___
___
    
7:30 p.m.
    
A judge has ordered four Baltimore polling places to each stay open an extra hour because they opened late.
    
The order sought by U.S. Senate candidate Donna Edwards was granted late Tuesday during a hearing that had to be moved to a parking garage because of a small fire at the courthouse. Polls were supposed to open at 7 a.m. Tuesday and close at 8 p.m.
    
State Board of Elections Administrator Linda Lamone says her agency opposed the request because extending hours at some polls would delay the release of results statewide.
    
Lamone says she's aware of 14 late openings, most by about 30 minutes.
    
Edwards is seeking the Democratic nomination for Maryland's open Senate seat. Fellow U.S. representative Chris Van Hollen is also running.
    
___
___
    
5 p.m.
    
One voter in Maryland's primary election voted for Democrat Bernie Sanders to get his party's nomination for president. But he wants to make a different choice for the general election in November: Republican Donald Trump.
    
Sixty-nine-year-old Michael Patrick is a retired AT&T executive. He said Tuesday after voting in Annapolis that he believes professional politicians have failed the country. That belief led him to support an outsider.
    
He says of Trump, "He's his own person." Patrick adds that Trump is will tell it like it is, is a patriot and is a successful businessman.
    
Patrick says his future vote for Trump will "throw a curveball at the Hillary Clinton establishment."
    
___
    
12:45 p.m.
    
A spokesman for Catherine Pugh's Baltimore mayoral campaign says some people who wanted to work for the campaign on Maryland's primary day became upset and damaged cars outside a campaign office after being told there were no jobs available.
    
Anthony McCarthy tells The Associated Press that after Pugh was informed of the situation, she decided everyone who showed up to work would be allowed to, and all would be paid.
    
The campaign had been recruiting people to hand out literature at polling places, promising they would be paid $100. McCarthy says people were supposed to fill out an application and be trained before the primary, but many just showed up Tuesday morning without having done that.
    
Baltimore police say one 53-year-old man was arrested for destruction of property.
    
___
   
11:30 a.m.
Some Maryland Democrats say they're having a hard time deciding between Hillary Clinton and Bernie Sanders for president.
Sabrina Stevens of Riverdale Park, who brought her 15-month-old son with her to vote, says she started out as a Sanders supporter, but she changed her mind over the course of the election. She says Sanders is making promises he can't keep and Clinton is better-positioned to get things done while in office.
Forty-year-old Yvonne Hunt of Silver Spring says she had a hard time deciding, but for different reasons. She says she likes Sanders and Clinton so much that she wishes "they could be co-presidents."
She ended up choosing Clinton, citing her foreign policy experience.
Clinton has fared well in states with large African-American populations. Maryland is 28 percent black.
___
8:00 a.m.
With voter turnout expected to be heavy amid several competitive primary races in Maryland, some voters in Baltimore are getting off to a slow start.
City election director Armstead Jones tells The Associated Press that several polling places opened late Tuesday morning. Polls were scheduled to open at 7 a.m.
Jones says he's not sure exactly how many locations opened late but he says he's "focusing on getting those open that are not open."
Maryland voters are getting a chance to weigh in on the race for president. There's also a high-profile race to replace Democratic U.S. Sen. Barbara Mikulski. The winner of Tuesday's primary between Reps. Chris Van Hollen and Donna Edwards will be heavily favored to win the seat in November.
In Baltimore, voters are also choosing a new mayor.
___
3:15 a.m.
Voter turnout in Maryland is expected to be heavier than normal, because the nominations for president haven't yet been determined.
Adding to voter interest, a high-profile U.S. Senate race is being decided Tuesday. There are also two strongly contested U.S. House primaries.
In the Senate race, Reps. Chris Van Hollen and Donna Edwards have been battling in a contentious Democratic primary, as Sen. Barbara Mikulski retires at the end of her term.
The race for Senate has opened up two congressional seats in districts that include the suburbs of the nation's capital.
Baltimore voters are deciding a crowded Democratic mayoral primary that includes state Sen. Catherine Pugh and former Mayor Sheila Dixon as front runners.
A record-high number of Marylanders cast early ballots during the eight-day, early-voting period that ended Thursday.