Smigiel attacks Harris in first district forum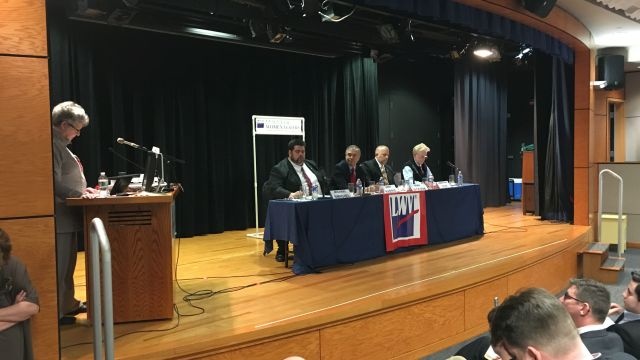 For the first time this election season all five republican candidates vying for the congressional first district shared the same stage Sunday, at the League of Women Voters (LWV) Forum at Chesapeake College in Wye Mills, Md.
Democratic candidate Jim ireton also showed up, but since his competitor for the democratic nomination, Joe Werner, failed to show, Ireton was not allowed to participate in the event. LWV officials said because of federal rules, Ireton could not be a part of the forum without Werner present, as to ensure neither candidate is given an unfair advantage.
All participating candidates drew straws to determine the order of opening statements, and it did not take long to establish that challengers Mike Smigiel, Sean Jackson, and Jonothan Goff Jr., all were unhappy with performance of both the incumbent, Rep. Andy Harris, and Congress as a whole.
"Congress has failed us and that's why I'm here," said Goff Jr., a former landscaper for both Home Depot and Target, during his opening statement.
All candidates were given a chance to answer questions from both the LWV and the audience. Smigiel, a former Maryland state delagate, took the opportunity to attack Harris's voting record.
Smigiel claimed Harris had voted against giving Maryland control over the Conowingo Dam, which he alleged was bringing pollution into the state's waterways from New Jersey. He also said the congressman had supported President Barack Obama's affordable health care act in 2014 when Harris voted in favor of continuing resolution funding to the Department of Homeland Security through early 2015. A bill that also had provisions for health care in it.
"I would have never voted to fully fund it, as was in the the cromnibus bill, as the congressman did. So when he tells you he's against obamacare, it never would have happened had not republicans stood up and voted to fully fund that," Smigiel said.
Harris was quick to respond to Smigiel's attacks, defending his record, and claiming Smigiel had not done his research.
"I think the former delegate is going to look at my 3,600 votes, pick out one out of context, one or two, and then mislead you on them," Harris said.
A common ground for all candidates, was the topic of immigration. All candidates voicing their belief that illegal immigrants should not be able to stay in the country.
"Do I support a path to citizenship, no I don't support a path to citizenship, if you came here illegally, you can't be rewarded with citizenship," Harris said.
Goff claimed at one point that illegal immigrants were flooding our borders.
"Our borders are wide open, we have illegal immigrants running all over our country, we're being invaded," Goff said.
Harris made a point that visa workers such as the H-2A temporary agriculture workers, and the H-2B non-agriculture workers that frequently come to the Eastern Shore often work undesirable jobs, and therefore help the economy.
Jackson said that in effort to decrease unemployment, he believes those jobs should first be offered to unemployed Americans, then visa workers.
"We need to offer up the jobs initially to the unemployed individuals, unemployed Americans first, if they turn down the jobs, then we need to remove them from the welfare program or from unemployment," Jackson said.
All five republican candidates are scheduled to take the stage again on Thursday at 7 pm at the Chesapeake Bay Beach Club for a forum hosted by the Republican Central Committee.