Sanders holds rally in Wilmington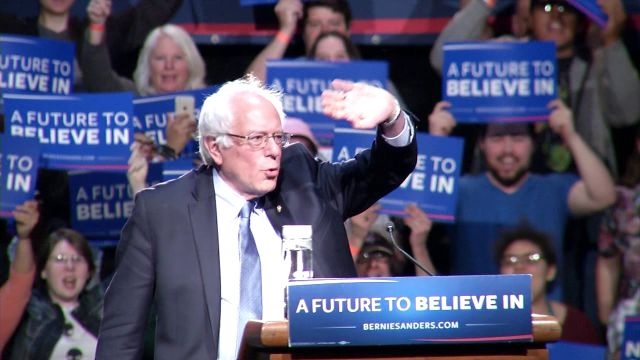 Democratic presidential candidate Sen. Bernie Sanders (D) appeared in Wilmington, Del. Saturday for a rally that was planned less than a day in advance. Despite the short notice, officials said over 3,000 people packed the Chase Center to see the Vermont senator speak.
GOP front runner Donald Trump was in Harrington, Del. Friday for a rally, but those with the Sander's campaign said that had nothing to do with Sander's decision to come to Delaware.
Among the topics Sanders discussed, his opinion on how wealth is distributed in the U.S.
"The truth is that today in America the top tenth of the one percent, not the one percent, one tenth of one percent owns almost as much wealth as the bottom 90 percent," Sanders said, drawing cheers from the crowd.
Sanders also took his shots at democratic front runner, former secretary of state Hillary Clinton. Sanders calling out her support of past trade agreements that he alleges only take manufacturing jobs away from the U.S.
A point that Sanders got a huge response from, was his stance on higher education, free tuition at all public colleges and universities.
"If the word gets out in this country that every kid, regardless of the income of his or her family, will be able to get a college education if they take their school work seriously (then) we can revolutionize education in this country," Sanders said.
Clinton wasn't the only one Sanders took shots at though, the candidate also took his aim at the Waltons, the family that owns Wal-Mart
"You know who the biggest welfare beneficiary in this country is…it's the Walton family," Sanders said. "I say to the Walton family get off of welfare, pay your workers a living wage."
According to salary website www.glassdoor.com, the average salary of a non-managerial Wal-Mart employee is around $10 per hour.
As for what it will take for Sanders to overtake Clinton for the nomination, 47 ABC asked those who were feeling "the bern" on what they think the candidate will have to do.
"I think it will be key for him to continue to pick up diverse support, I think he's been doing that more than the media would suggest," said Chris Garrett.
Delaware heads to the polls for their primary election on Tuesday.