Report: Blue crab population shows 35% increase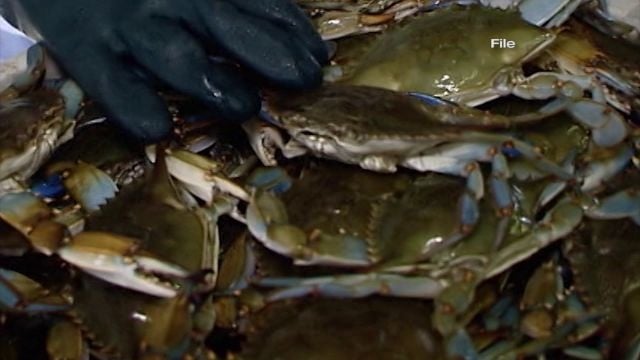 The latest Blue Crab Winter Dredge Survey, conducted by the Maryland Department of Natural Resources and Virginia Institute of Marine Science, appears to be good news for crab lovers and watermen.
According to the report, a population of about 553 million blue crabs are estimated bay-wide across the Chesapeake as of April 1. It's a 35 percent boost from last year and the fourth highest level in about two decades.
Cambridge waterman Scott Todd says it's a sigh of relief.
"Any time the term abundance is used and anytime you got more, it takes pressure off everything," Todd says.
Todd sells bushels to the J.M. Clayton Seafood Company in Cambridge. He tells 47 ABC, male crabs generally sell for about three times more than females.
The survey released Tuesday also found spawning stocks for both males and females have doubled. They now stand at their second highest levels since 1995.
Brenda Davis, Blue Crab Program Manager for the Maryland Department of Natural Resources, says a number of things are responsible for the big boost.
One of the factors included a milder-than-average winter in terms of overall temperatures, but she also credits limitations on harvesting passed in 2008 which namely affects female crabs.
According to Davis, those limitations depend on the type of license a crabber has and the time of the year.
"So that provides sort of a safety net that when we have good environmental conditions, the resource has its best potential to have good reproduction," She explains.
Todd tells 47 ABC, he's not convinced the most recent boost in population has to do with regulations.
"All types of seafood comes in goes in cycles," He says. "They have ups and downs. It's Mother Nature. You just can't predict it. You can't control it."
Davis also tells 47 ABC, they plan to meet with their industry advisory group in May. She says a limit revision for 2016 is possible.
Crab season ends on November 10th for female crabs and December 15 for male crabs.
USA Today's  "10 Best" section has teamed up with Sandwich America and has released a new poll: the ten best crabcake sandwiches in Maryland. Of the nominees on the current list chosen by some Maryland experts, are several spots on the Eastern Shore.