Nonprofit therapy horse farm in the works for disabled children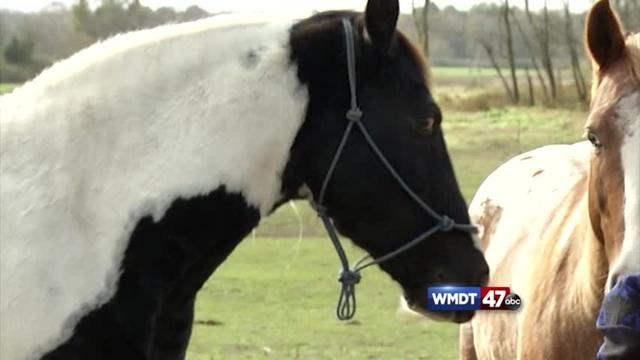 A new form of therapy is sweeping the nation to help people with disabilities, and a free horse therapy farm could be making its way to Delmarva.  Leah Lednum is working to form a nonprofit that would give disabled children the opportunity to ride and interact with horses as a form of therapy.  Her vision is to have a farm in Dorchester County, where disabled children can ride for free. Currently, horse farms are on the Eastern Shore, but none are free. 
Lednum says her passion for the therapy farm came from watching her own daughter benefit from it.  She tells 47ABC "I want to start the nonprofit therapy farm for the disabled in the community because I've seen the difference it's made in my daughter – I have a 26 year old disabled daughter who rode for two years".
However Lednum stresses that this is more than just about her family.  Her vision of the farm would be available to the entire disabled community of the Lower Eastern Shore.  Her daughter found her love for horses, at SOAR in the saddle, a farm in Queen Anne's County.  The staff at SOAR are doing whatever they can to get a therapy horse farm set up on the Lower Shore.  
When asked how the horses help, Lednum is reminded of a story told by Joel Osteen about a handicapped boy.  The boy is in a wheelchair, and didn't ever want to do anything, and became depressed because of his disability.  However when the boys family adopted a 3 legged dog for the boy, he was so proud of the dog that all he wanted to do was go outside and play with it.  Lednum says that it is similar with the horses.  Regardless of what disability a person may have, when they get up on the horse, and interact and connect with the horse, that person is cured of their disability, even if just for a moment.
While Lednum admits she's at ground zero with the idea of the therapy farm, she says she has already garnered so much support from not only SOAR in the saddle, but Bennett Seed & Feed as well.  To get the ball rolling on the farm, Lednum needs help to find a location, horses, and of course fundraising.  A public hearing will be held Friday evening at 6PM in the Dorchester County Public Library in Cambridge.  All are welcome to learn more about the therapeutic value of the horse farms, and to ask any questions you may have.
For those who cannot make it to the meeting, donations, sponsorship, and general inquiries can be made to SOAR in the Saddle.