Governor Hogan surprises students at OC Elementary School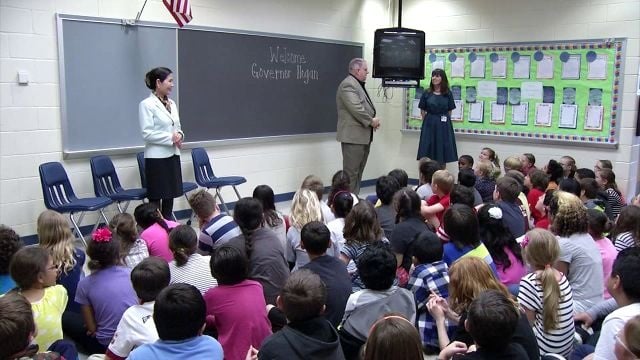 During his 4 day trip of the Eastern Shore, Governor Larry Hogan made a special stop at Ocean City Elementary School on Friday to surprise students, after they requested him to visit, via snail mail.
Savannah Palmisano wrote the letter and she tells 47 ABC, "I wrote for him to come to American Education Week and that we wanted him to experience first hand all the good things that we learn."
American Education week was back in November. During the event, the school opens their doors to parents and community members to see what the students are learning, as well as what other opportunities they offer in the school. And as a part of that, each class has the opportunity to write a letter asking for a special visit. Out of each class, 2 are chosen. Savannah's teacher Jennifer Spicer says her good work ethic was just one reason her letter was chosen.
Spicer tells 47 ABC, "Savannah's a great student here, she's very smart and she has wonderful handwriting so that stood out to me."
And when Savannah found out that Hogan was coming to her school, she says she was pretty excited.
47 ABC also spoke with Governor Hogan and he says, "I just love being with the kids and education is so important, we have a great 4 day tour of the lower shore and we've got things packed all day with transportation and announcements and were meeting with local elected officials and business leaders and just folks all over, but just adding the kids in was a nice mix and I think they had fun and I enjoyed it a lot."
Spicer tells 47 ABC, "What an honor to have him come to our school, a lot of kids had curious questions and curious minds wanting to find out about the job that he does. It was very important to have him here to share this opportunity with our students."
Ms. Spicer says she encourages members of the community to visit their school so they can see first hand what goes on every day. School officials tells 47 ABC this is not the first time the school has done this, they've been writing letters for a number of years and have been fortunate enough to have local mayors, council members and community members visit. However, Governor Hogan's visit marks one of their larger profile visits.