Fruitland Primary Teacher awarded $2,500 grant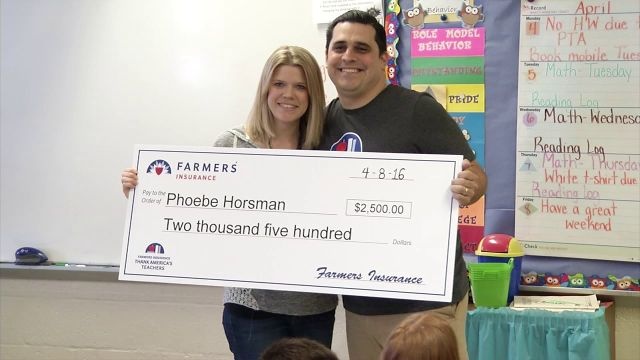 On Friday afternoon a teacher at Fruitland Primary got a very special surprise, a check for $2,500. 2nd grade teacher Phoebe Horsman was surprised in her classroom this morning by Farmers Insurance.
The insurance company adopted the "Thank Americas Teachers" program in which they donate grant money to local schools to fund projects in the classroom. The program has been around for about 3 years and this year they are set to give out $1 million to schools around the country. After not winning last year, Horsman says she's happy to say the least.
47 ABC spoke with Horsman and she says, "It's overwhelming, I'm still shaking, very excited, excited for my kiddos they work very hard every day and we're hoping with some new technology we'll be able to have everyone access our curriculum. Just winning anything I think as second graders is quite exciting so I'm sure for them this is going to be a special day that they remember."
Horsman tells 47 ABC she plans on using the money to purchase I-Pads for her students. This year, through Farmers Insurance, 180 deserving teachers will receive the same grant.