Two men arrested, two more sought after Princess Anne shooting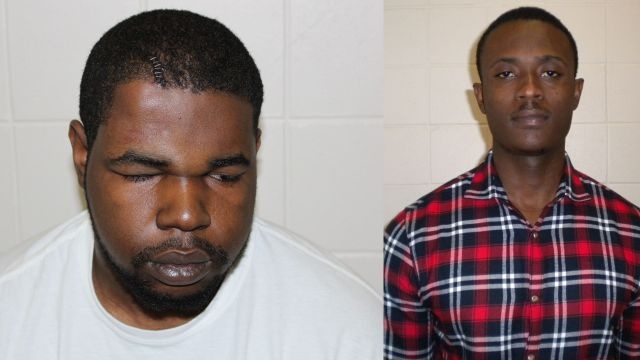 Two men have been arrested, after a shooting in Princess Anne last week, but police say they are still looking for two others.
According to Maryland State Police, James Okoro and Calcius Agyemang-Asirifi are now in custody.
Authorities say they responded last Thursday, to Somerset Avenue for reports of shots fired.
A preliminary investigation apparently found that two victims were driving on the road when a burgundy colored, Chevy Tahoe crossed the center line and hit their car head on.
Reports say, four men apparently exited the Tahoe and fired at least two shots into the victims' car. Two of those men were apparently, Okoro, and Agyemang-Asirifi.
The Tahoe fled the scene, and police say they later recovered it.
Okoro was arrested on February 26, after he apparently went to authorities, asking for his car back. He denied that he was involved in the shooting, but police say their investigation linked him to it. Agyemang-Asirifi was then arrested Tuesday.
The shooting was allegedly in retaliation to a fight that happened earlier, in the day of the crash. 
Both men, who officials confirmed are University of Maryland Eastern Shore students are now facing multiple charges, including first and second degree attempted murder.
Authorities tell 47 ABC, they are still looking for the two other suspects who were in the Tahoe, but there has been no information on them, available at the moment.
Authorities say this investigation is still active and ongoing,  and anyone with information is urged to contact the Maryland State Police Princess Anne Barrack at (443) 260-3700.