The Latest: Turnout strong in Fairfax for both primaries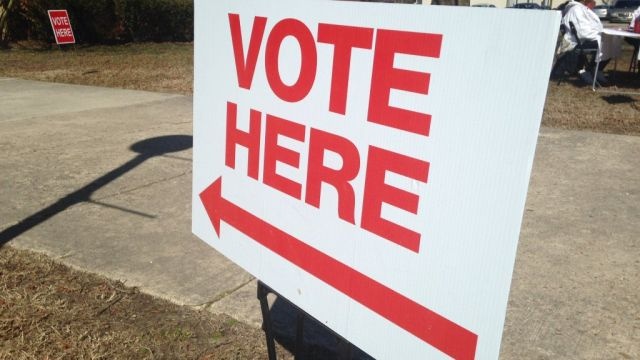 (AP) – The Latest on Virginia's primary elections (all times local)
4:15 p.m.:
    
In Virginia's largest jurisdiction, turnout has been strong for both the Democratic and Republican presidential primaries.
    
Lisa Connors, spokeswoman for Fairfax County's Office of Elections, said that as of 2 p.m. Tuesday, roughly 23 percent of the county's 700,000 registered voters had cast ballots.
    
Voting was split roughly evenly between Democratic and Republican ballots. In Virginia, voters do not register by party, and voters can choose to participate in either primary.
    
In 2008, the last time Virginia had a dual presidential primary, turnout in Fairfax County reached nearly 36 percent by the time the polls closed. In that year, though, roughly 73 percent of voters were casting ballots in the Democratic primary, when Hillary Clinton and Barack Obama's battle for the nomination was in full swing.
    
___
    
2 p.m.:
    
U.S. Rep. Scott Rigell of Virginia is imploring his fellow Republicans to vote for anyone but Donald Trump.
    
In an open letter sent to supporters Tuesday, Rigell said it would be "nothing short of catastrophic" to the GOP if the billionaire businessman becomes the Republican presidential nominee.
    
Rigell, who represents parts of the Hampton Roads area and is set to retire from Congress at the end of this term, said he would not support Trump if he became the GOP nominee.
    
Virginians are voting in the Super Tuesday primary and polls have shown Trump leading in the GOP contest.
    
___
1:00 p.m.:
Democrats and Republicans alike in Richmond's Church Hill neighborhood have strong feelings about GOP presidential front-runner Donald Trump.
Troy Waller said he voted for Trump because he likes that the real estate mogul is an outsider and independent thinker.
The 48-year-old salesman said he thinks Trump's brash style is exactly what the country needs right now. He says America is due for a "shake up."
Adrian Harris, a retired mechanic, said he fears a Trump victory in November would bring "turmoil." Harris said he believes Trump's policies would hurt poor residents, "who are scrambling as it is."
The 58-year-old said he voted for Hillary Clinton because he liked President Bill Clinton and wants to give the former secretary of state a chance.
12:45 p.m.:
Voters trickled in to Richmond's Precinct 306, a Democratic stronghold on the city's near north side. Many who were asked said they were voting for Hillary Clinton, with a few casting ballots for Bernie Sanders.
Nicole Freed crossed over and voted for Republican Marco Rubio. The moderate Democrat said her vote was intended to knock Donald Trump off the ballot in November's general election
Freed is a disabled 32-year-old Army veteran who served in Iraq. She said she doesn't like what she called Trump's broad generalizations about Muslim Americans. She added, "I don't think we can fight the entire Muslim world."
In November, she said she'll probably vote for Clinton.
Another Army veteran, 80-year-old Clarence Wall, was firm in his support of Clinton. He called her a fighter.
___
12:15 p.m.
A few dozen voters waited patiently in line at 11 a.m. Tuesday at Fairfax County's Greenspring precinct, which traditionally has the highest turnout in Virginia. The entire precinct is composed of voters of the sprawling Greenspring retirement community.
Bill Weise (WEESE'), an 86-year-old retired Marine Corps general, voted for Republican Texas Sen. Ted Cruz, with seven months of deliberating coming down to the final 10 seconds before he filled in the bubble next to Cruz's name. He picked Cruz over Donald Trump, even though Ben Carson was actually his favorite candidate. But he concluded Carson wasn't viable, and picked Cruz because he ultimately decided he "would make better decisions as chief executive than Trump."
Eighty-nine-year-old Claire Manger cast her ballot for Trump. She wondered, though, if he would be able to deliver on his promises.
___
Maureen Neal says she knows a lot of people these days are looking for a change from the career politicians who dominate Washington, D.C. But she is not one of them.
The 66-year-old Richmond resident says she cast her vote Tuesday morning for Democrat Hillary Clinton for a variety of reasons, one of them being her experience as a senator and secretary of state.
She says Clinton is a proponent of equal rights for women, wage equality and has a good sense of foreign policy – and she has a good head on her shoulders. Neal considers herself an independent but voted Democrat at Jahnke Road Baptist Church in South Richmond.
Neal works at a community health center. She says the negative tone of the Republican candidates has been heartbreaking for our country.
Election workers at the church say voting has been steady through the morning, with some people lining up outside before the polls opened at 6 a.m.
___
11:45 a.m.
Michael Kernyat of Chesterfield County said he voted for Republican Ohio Gov. John Kasich "even though I think I threw my vote away."
Virginia voters are heading to the polls Tuesday to help pick the Republican and Democratic nominees for president. Kernyat, a 60-year-old retired computer consultant, says Kasich is "the most reasonable person running," but probably has no chance of beating Donald Trump. Kernyat says "nobody is going to stop that freight train."
Mary Rodriguez says she is a longtime fan of Democratic former Secretary of State Hillary Clinton, but she voted for U.S. Sen. Bernie Sanders of Vermont. After voting at a heavily Republican precinct in Chesterfield County, the 38-year-old insurance agent says much of what Sanders talks about is what she believes in and "what I want for my children."
___
10:45 a.m.
At Marshall High School in Falls Church, just inside the Capital Beltway, 260 Democratic voters and 209 Republican voters had cast ballots as of 9 a.m. Tuesday, in a precinct that typically leans Democratic.
Virginia is one of a dozen Super Tuesday contests whose outcomes could go a long way in determining each party's eventual winner.
Forty-eight-year-old Richard Kearny of Falls Church went with Hillary Clinton, describing it as a hard choice. He said he's a strong Catholic and supports the church's conservative stances on abortion and gay marriage. But that is outweighed by the fact that he views Clinton and the Democrats as better stewards of the economy.
Thirty-year-old James Wigley of Falls Church cast his ballot for Bernie Sanders. The administrative aide said he's a political junkie who has long followed and supported Sanders, and that he's pleasantly surprised at the strength of Sanders' insurgency campaign.
___
5 a.m.
Officials in both political parties are expecting large turnouts in the Virginia presidential primary.
Virginians head to the polls Tuesday to help pick the Republican and Democratic nominees for president.
The state is one of a dozen Super Tuesday contests whose outcomes could go a long way in determining each party's eventual winner.
The limited polling available in Virginia shows Donald Trump ahead in the Republican primary and Hillary Clinton leading in the Democratic race.
Republican Party of Virginia Chairman John Whitbeck says he expects a record turnout of voters in the GOP primary. His Democratic counterpart, Susan Swecker, says turnout on the Democratic side should be "robust."
Virginia is an open primary, and registered voters can vote in either primary.