On The Job: Tails and Tubs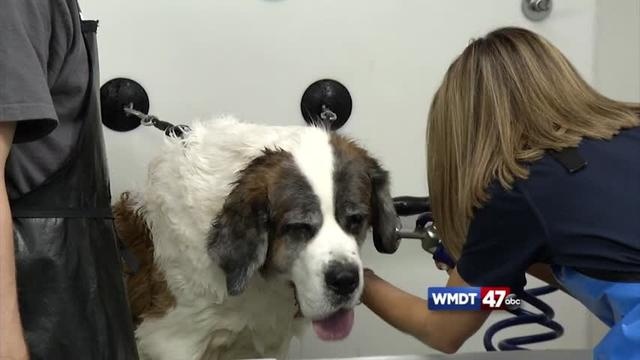 If you are a dog owner, you know that the time to take them outside to the park, or for a walk is right around the corner. As we all know, sometimes they can get pretty dirty from playing outside, but Tails and Tubs in Salisbury has you covered!
Jedi Frick owns the salon-like groomer with his wife and they've been up and running since this past October. They wash many different breeds of dogs every day, including Sasha the St. Bernard.
St. Bernards are one of the larger breeds and are very hairy. Frick tells 47 ABC, "We always make the snow globe reference around here, when you're drying them out I mean you're going to see plumes and plumes of hair just everywhere."
All dogs are washed, dried and made beautiful in their own personal gated space. Frick tells 47 ABC, "We don't use cages at all they're free to play and hang out and run around, we don't like keeping them trapped and feeling confined that's usually what leads to the stress."
And tails and tubs is definitely a stress free environment. Frick tells 47 ABC, "We've got aroma therapy we got the nice calm music it's literally a spa for dogs, we do massages and it's part of the bath too."
But when dealing with dogs its not always massages and serenity. Part of the job includes cleaning out the dogs ears. After meeting Sasha, it was time to bring her up the ramp and into the tub! Once she was in, she had to be chained to the wall by suction cups to make sure she wouldn't jump out.
After cleaning Sasha's ears, it was time to start the bathing process! As soon as she was all wet, it was time to add the shampoo! Tails and Tubs uses all organic, natural products and Jedi says if there is the option to buy locally, he always does.
Of course, Sasha gave us the unavoidable shake, but Frick says there's a trick to help stop that. Frick tells 47 ABC, "Usually if you put your hand right there on their shoulders with just slight pressure, they'll stop."
After about 15 minutes, we were still shampooing! Finally, it was time to rinse Sasha off. After a lot of struggle, she was ready to be dried. Tails and Tubs use massive blow-dryers. Frick says the machine is 8 horsepower and can get so loud that they sometimes use noise-canceling headphones!
The blow drying may look harmless, but water was spraying everywhere and hair was flying wild. Finally, Sasha was all done, but of course, no job is complete without a pretty bow!
Next week 47 ABC heads to A Plus driving school to sit in the student driver seat and relearn the rules of the road! If you would like to be featured on "On the Job" you can email Michelle at michelle_mackonochie@wmdt.com.